Nikon D3100 Officially Announced by Nikon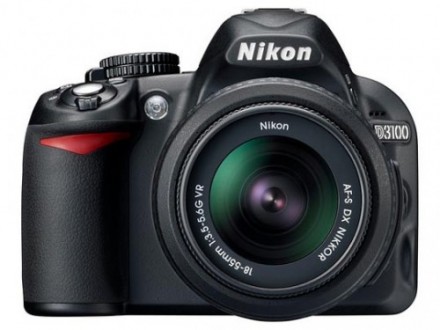 First reported by Nikonrumors.com and turning those very loud rumors into reality yesterday when Nikon officially announced their new D3100 DSLR along with their new batch of lenses.  This is very cool as it becomes the first Nikon DSLR to be able to shoot HD in glorious 1080 @24p!   The Nikon Canada website has the D3100 listed with a street price of $569.95 for the body only, and $699.95 for the D3100 Kit with AF-S DX NIKKOR 18-55mm f3.5-5.6G VR Lens.  This is great news for indie filmmakers!

Taking a look at all the information, I noticed something interesting about the D3100.  It's Live View/Movie mode is not activated by it's own specific mode on the mode dial, but instead is activated simply by first flipping the Live View switch on.  To record movies you simply press the embedded record button.

What's so special?  Well, on lower-end DSLRs most companies limit the amount of functions and control you have when recording movies by building limits into their movie mode.  But the D3100 does not really have a specific movie mode, just a record button, so that means you are free to set the DSLR with ANY setting on the camera – auto or manual.  Then presto, with a touch of a button you're recording movies.  That is very cool!  Especially since this is supposed to be an entry-level DSLR.
The other detail I noticed is the recording time of movies using the D3100.  The max. recording times for both 1080 and 720 HD modes are reported to be 10 min.  Now, I find that very interesting.  Mainly because Nikon — like every other DSLR manufacturer — uses FAT32 formatted flash cards.  The max. file size is the magical 4 GB limit.  The competing Canon T2i for example can record 12-14 minutes of HD video on a FAT32 formatted card.  And that's using a data rate of about 44 Mb/s!  Without any video samples available yet from the D3100, my thinking (okay well, guess is more like it) is that either Nikon put in an artificial limit on movie recording, or they are using a data rate higher than what other DLSRs are using for video.  Personally I'd like to think the latter, but time will tell as soon as actual HD video clips start appearing in the next little while.
Now let's see about that D90 replacement!  If the rumours are once again true, Nikon will announce their D95 in a month's time.
For more information, check out Nikonrumors.com.
DPreview.com got theirs hands on a pre-release model of the D3100 and has published their hands-on preview of it.
Check out the D3100 news and prices on Nikon Canada's website at Nikon.ca.