When Kinect meets dubstep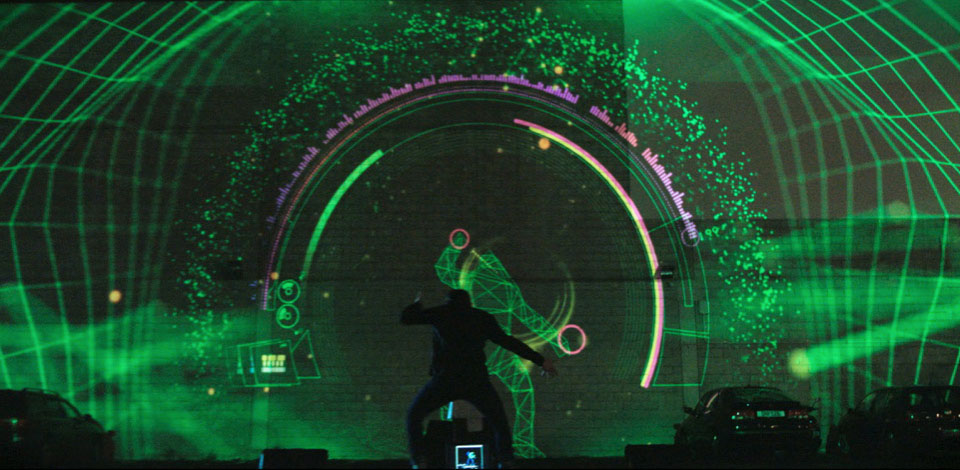 Ever since its launch, the Kinect has been a favourite for people to experiment with what can be done with motion controls. In what could be the coolest mash up to date, a pretty big team of talented individuals combined for the V Motion Project. In a nutshell, two Kinects, along with a couple of controller machines (one PC, one Mac) to create an interface that provides a visually stunning motion controller to work with the Ableton Live audio software.
This goes beyond the typical Kinect hack though. The V Motion Project was sponsored by V energy drink maker Frucor, along with their ad agency Colenso BBDO, as a promotional event.
The resultant video below is a Kinect enabled conductor projected onto a massive 30 metre by 12 metre wall, accompanied by some great visualizations that take their inspiration from old school vector games like Battlezone. In fact, while watching it, I couldn't help but want a scaled back version of this at home. While it's not a video game, it's reminiscent of my favourite Kinect game, Child Of Eden.
The blog for the V Motion Project is very detailed as to how the project came together, and the technical challenges they encountered.  If you happen to like the track, you can download the MP3 from the official V Motion Project page.
[Source: V Motion Project blog]
[via: The Verge]