iPhone 4 Canadian launch news round-up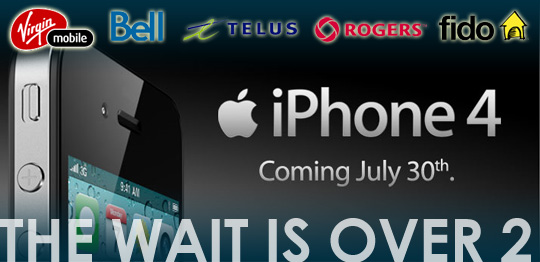 The day has finally come for Canadian iPhone fans, as the iPhone 4 is available in Canada. Are you picking one up today?
After all the controversy surrounding 'Antennagate' in the US, it will be interesting to see if the problems with iPhone 4 will affect sales in Canada. The die-hard Apple fanatics will still be lining up in front of stores to get their Precious, but with a lot more choices available in Canada for high-end smartphones now (the Samsung Galaxy S comes to mind), I can't help but wonder if the enthusiasm for the new iPhone might be muted this time. Of course the real acid-test will be if the reception problems that the iPhone 4 suffers from in the US as are repeated here.  With three HSPA providers, all of whom have much better coverage that AT&T, Antennagate could very well end up being a non-issue here.
This year marks the first time Apple will be selling UNLOCKED iPhone 4's in their stores at full retail price. Also the Canadian three-year contract price is cheaper that the US two-year price, which is as it should be. Finally we're not getting the short end of the stick!
Continue after the break to read more about Apple's, Rogers, and Bell's launch promotions and plans.
Apple stores opening early
To celebrate the launch of the iPhone 4, Apple stores across Canada will be opening at 7AM, where phones will be sold on a first come first served basis, with a limit of two per customer. Of course, to stand any chance of getting a phone you probably have to line-up many hours prior to the launch — as I write this post at 11pm I am sure the line ups have already started.
Apple will be selling the unlocked no-contract 16GB for $659, and 32GB for $779. You can also activate or upgrade your new iPhone on Rogers, Bell, Virgin, Fido, or Telus in store. With unlocked phones officially on sale in Canada, I wonder how many Americans will cross the border tomorrow to pick up one.

Rogers & Fido announce pricing, special upgrade promos, return of 6GB plan and iPad share plans
Details for Rogers and Fido iPhone 4 pricing and promos were released on the Redboard blog. As in previous years, Rogers is being quite generous, by allowing existing iPhone users to upgrade to the new iPhone at a substantially reduced price. There are 3 upgrade offers:
Did you activate or upgrade your Rogers iPhone on a term contract between January 1, 2009 and June 7, 2010?
Then you're eligible for at least $250 off the no-term device price. That's an iPhone 4 16GB/32GB for $399/$499 on a new 3-year voice and data plan.

Did you activate or upgrade your Rogers iPhone on a term contract on or before December 31, 2008?
Thank you for your business. You're eligible for at least $480 off the no-term device price. You can pick up an iPhone 4 16GB/32GB for $159/$269 on a new 3-year voice and data plan.

Did you activate or upgrade the original iPhone 3G in 2008 and then upgrade again between June 19 and September 15, 2009?
You're also eligible for at least $480 off the no-term device price. You can pick up an iPhone 4 16GB/32GB for $159/$269 on a new 3-year voice and data plan.
Fido's upgrade promotions are similar to the above, but not detailed in the Redboard post, and will be in the form of a bill credit, instead of an upfront discount. Go to www.fido.ca/iphone for full details.
The iPhone 4 is $649 for the 16GB and $749 for the 32GB model, though for those prices you'd be better off getting the unlocked version from Apple. Also the 6GB for $30 promotional data-plan is back until September 30th and, as per last year, this plan is not restricted to the iPhone.  This means if you have an Android phone, and missed out on this plan last time, give Rogers a call tomorrow.
Also worth noting is that the much requested iPad sharing plan has finally shown up, after mysteriously going MIA when it was accidentally leaked on Apple's site during the iPad launch. Just as the leak stated in May, $20 a month allows you share your iPhone plan with your iPad.  This is restricted to the 6GB data-plan, and it too is only available until September 30th.
More details can be found here on the Redboard post.



Bell and Virgin offering 6GB for $30 data plan too, iPad sharing for $10
Later in the day, possibly because they were waiting to confirm what Rogers was offering, Bell put up their iPhone promotions:
From July 30 to September 30th get 6GB of data for only $30 per month with unlimited Wi-Fi in over 750 locations including all Starbucks in Canada.*

Have an iPad too? For an additional $10 per month, you can share the data between both your iPhone 4 and iPad.

Exclusive Mobile TV offer:
Get access to FREE Mobile TV (data download and usage charges apply) until September 30th and catch full-length episodes of your favourite shows, news, weather, entertainment and sports. Download the Bell Mobile TV app from the App Store to access this service.
As can be seen it is great that Bell is beating the Rogers $20 iPad sharing plan, but even then having to pay extra to use the SAME data does seem like a crime. Of course you can simply jailbreak your iPhone and install myWi to get wireless tethering for free.
Just like Rogers, on Bell the 16GB iPhone is $159, and the 32GB is $269. However there are no mentions of any upgrade promotions. Unlike Rogers customers, most of who bought their current iPhones a year ago or more, Bell customers have had their iPhones no more than 9 months, as it only launched on Bell (and Telus) in November 2009. Consequently I doubt Bell will be offering anything to people wanting to upgrade to the iPhone 4. They might throw them a bone, and give them $50-$100, but we'll have to wait and see. If you are on Bell and they offer you nothing, the smartest choice is to buy an unlocked iPhone 4 from Apple.
Lastly Virgin Mobile, who are unlikely to offer any king of upgrade at all (since they only started selling the iPhone in February), will also have the iPhone 4 tomorrow, and are offering the same 6GB data-plan until September 30th.

What about Telus?
It is the night before the iPhone 4 launch, and Rogers has release a LOT of info about pricing and promotions, and Bell a little less.  Telus is the only major holdout, and has announced nothing prior to launch… zero, zilch, nada – not even a tweet!.
I am a loyal Telus customer myself and while there is a lot to like at Telus, their standard MO of not releasing any info until after a plan launches is infuriating. If I was a potential customer looking for an iPhone 4 tomorrow morning, both Rogers and Bell have released enough information to help me make a decision.  With no info from Telus, they wouldn't be in the running.
As I draw this iPhone 4 launch round-up to a close, I say good luck to all the people in line waiting for their shiny new toy – I'll see some of you soon as I plan on going down to the Apple store early in the morning to catch crowd reactions.
Happy iPhone 4 day!
[via Apple, Rogers, Bell, Virgin Mobile, MobileSyrup and CBC]