10th annual Toronto Zombie Walk on Oct 20th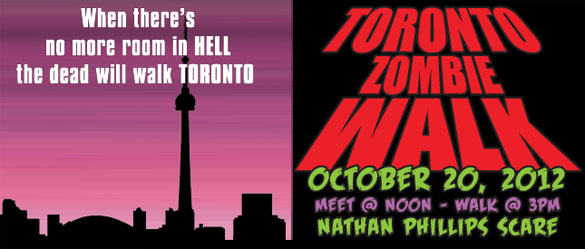 Since its humble beginnings a decade ago, the Toronto Zombie Walk has grown to become a massive annual event, every year attracting thousands of the undead to the streets of Toronto. On Saturday October 20th, the dead will rise again.  Here's just a partial schedule as to what's going down…
OCTOBER 20th TZW Schedule:

12pm-2:30pm – Meet at Nathan Phillips Scare. (100 Queen St. West)

Enjoy vendors, bands and our Creeped out Blood Booth.

Meet John Russo and Russ Streiner of Night of the Living Dead infamy and have your zombie groans recorded at the "MOAN ZONE" for the upcoming play Night of the Living Dead Live!!!

The first 100 registered zombies to visit The Toronto Zombie Walk booth will receive a free copy of the novel Alice in Zombieland, courtesy of Harlequin.

Buy your Power House of Terror Tickets here. You will not only receive $5.00 off, but every ticket sold will pay $5.00 to the zombie walk. Let's keep this event running.

2:30pm –

Opening announcements and performances, including a special performance by

Skin Tight Outta Sight

and

Great Canadian Burlesque

. Followed by our annual costume Contest judged by our special Guests and Grand Marshals Russ Streiner and John Russo.

3:00pm – The Toronto Zombie Walk commences. Join the Undead in a 5 Kill-o_meter stroll through the city while feasting on the flesh of the Toronto Living.
Get all the details about what's happening during the day from the Toronto Zombie Walk site!