Acer Aspire Easystore H340 Review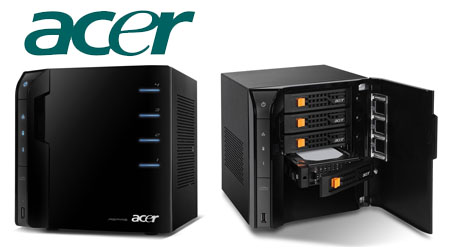 Overview:
I'm sure we've all been faced with the dilemma of running out of hard drive space, and wondering whether it would make more sense to upgrade an internal drive, or plunk down the money for an external solution.  When contemplating getting yet another hard drive to add to my system (as dictated by the paltry 24 GB I had left free on my last drive), I realized it was time to look into some sort of network addressed storage (NAS) instead of dogpiling another drive in the computer, or worse yet, another external drive.
My timing couldn't be better, as fellow rgb'er Alex mentioned he just picked up an Acer Aspire Easystore H340, a Windows Home Server system selling for less than $500 with a 1 TB drive.  When he pointed out to me that Acer was also running a promotion until the end of May that meant  doubling down on storage and tossing in a second 1 TB drive for free, I decided to make the call.  The Easystore is not only significantly cheaper than most other 4 bay NAS solutions (including some that don't even bother supplying ANY storage drive).
But, would a netbook class processor with 4 drive bays be robust enough to run Windows Home Server?
When the surprisingly heavy box arrived, it was time to find out…

On The Surface:
The H340 is a well designed little cube.  When I say little, I mean well smaller than standard servers, with dimensions of 8.3-inches (H) x 7.8-inches (W) x 7.08-inches (L).  It has a glossy black front panel that opens to reveal the 4 hot-swappable drive bays (one occupied by the OS), and a funky wedge of a power button.  At the bottom of the 'wedge' is a single USB 2.0 port.  This angled wedge design can also be seen in Acer's Revo set top box, so it seems they're going for a unified look moving forward.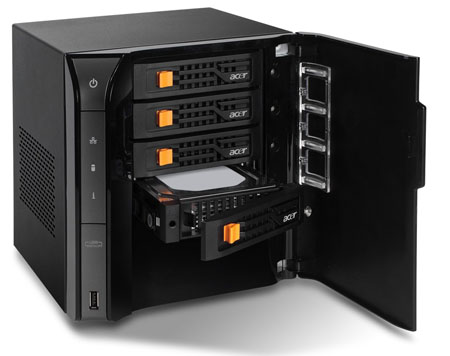 Around back, you'll find an additional 4 USB 2.0 ports and an eSATA port, all of which will allow you to further expand on the storage of the Easystore.  The ethernet port is Gigabit, which is especially handy if you plan on using it as a media server.  Like many NAS solutions, there's no inputs for any kind of human interface: no keyboard, mouse or video out.  All access to the machine is done remotely.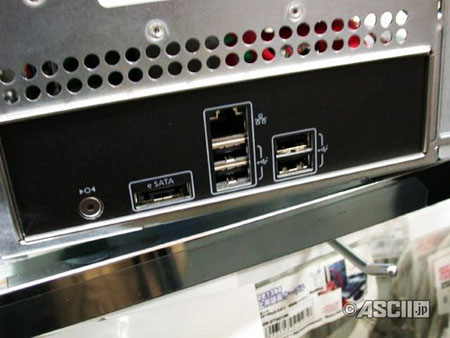 Image from 8080.net
Since it's meant to be hidden away, you'd think aesthetics wouldn't be too important, but Acer has designed a nice box in the Aspire Easystore, and the glowing blue lights look cool.
Inside The Box:
The internal specs include the same Atom 1.6GHz processor found in just about every netbook on the market, but the memory has been beefed up to 2GB.   This helps keep power consumption, and costs down.  Finally, there's a PCI-E slot, though I haven't figured out what I'd put in there, unless a future software update will support TV Tuner cards so I can offload my PVR duties from the main computer.
* Intel® Atom™ Processor 230 (1.6GHz)
* Microsoft® Windows® Home Server
* 2GB DDR2 Memory
* 1TB Hard Drive
* Three Empty Hot Swappable Hard Drive Bays (4th includes OS)
* Five USB 2.0 Ports
* One eSATA Port
* 10/100/1000 Mbps Ethernet
* 200 Watt Power Supply
It's also surprisingly quiet.  While doing an initial multi-gigabyte copy to the server, the Easystore barely made a whisper.  The combination of a relatively low power consumption chip like the Intel Atom, with enough room to put a larger, slower fan makes for a quiet little server.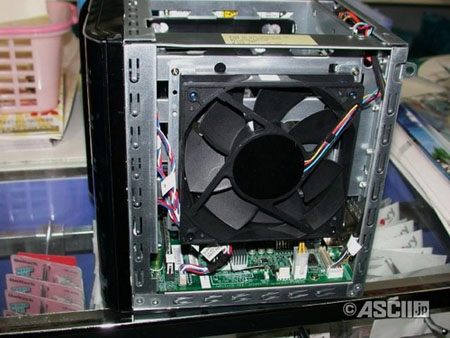 Image from 8080.net
In short, it's not a powerhouse machine, but a server doesn't require the kind of horsepower a desktop computer does.
The Software:
This is where the Easystore surpasses most NAS solutions in my humble opinion.  Instead of a custom web GUI, it's a full-fledged Windows Home Server (WHS), which makes the price/performance almost irresistible.  When setting it up, you have to install the console software on another machine on the network, but this was a painless process.  After updating the server software, it was in business.
Before getting into the capabilities of WHS, I should mention the way it handles storage.  Basically WHS hides the 'nuts and bolts' of RAID configuration from the end user, instead giving you the option to either span any folder across multiple drives or not.  Obviously, if you choose not to duplicate data across drives, there's a greater chance of data loss if one drive dies on you.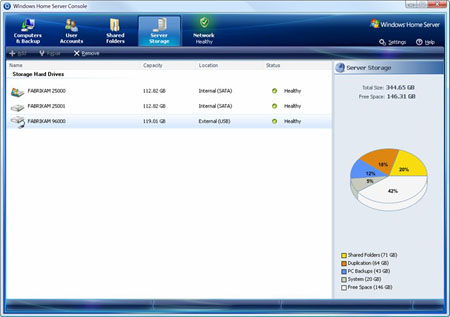 It's also worth pointing out that although is section is about WHS on the Acer Aspire Easystore H360, it would apply to other WHS installs, such as HP's Media Smart line, or a DIY installation.  So, with that out of the way…
So what does WHS do?
Back ups:  I've got two machines at home, an HP desktop with Vista Home Premium (my main machine and PVR), as well as an Acer Aspire One netbook, currently running the Windows 7 RC.  It was so simple to set both machines to back up to the server that I didn't even realize that my desktop had already started the process.  After making a full back up of a machine, WHS will then just back up changes, so you can rest assured if something does go wrong, you'll only be a day behind.
Network Storage:  This was a no-brainer, and the main reason I wanted a NAS.  Moving all my pictures, music and videos was a snap (though when looking at moving a terrabyte of data over 100mbit wasn't exactly fast ).  WHS has default share locations for all of the above, as well as for software, documents and more.  Since WHS is a(n easy to use) variation of Windows Server 2003, access rights can be assigned on a per user basis, which is handy in a home environment where you don't want your 7 year old to accidentally delete 6 years worth of digital photos, but still let him browse them.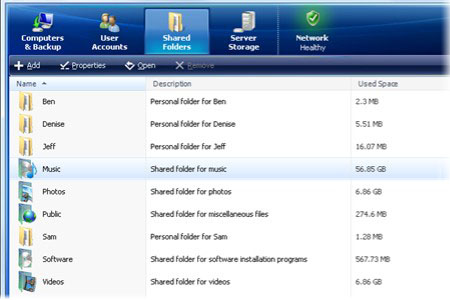 Although I don't use Mac OS X machines at home, WHS supported Time Machine out of the box, until Apple removed SMB support.  To return said functionality to WHS there's a free app available for Macs called iTimeMachine that, by all accounts, works well.  I don't have an OS X machine, so I can't attest to it personally.  You should be fine in a mixed computing environment.  Linux boxes should play nice as well, since there are plenty of utilities to back up over the network.
Remote Access:  WHS makes it very easy to access your server on the go by enabling UPnP router configuration.   Once enabled, you can access your server either through a web interface, or via Remote Desktop.  Once again, the user privileges you've established earlier come into play.  You can also create a 'guest' account for limited access, or alternatively create separate accounts for friends/colleagues with whatever level of permission you wish.   If you have a Live account (hotmail, Xbox Live etc), you can also give the server it's own unique subdomain so you can point people to myserver.homeserver.com.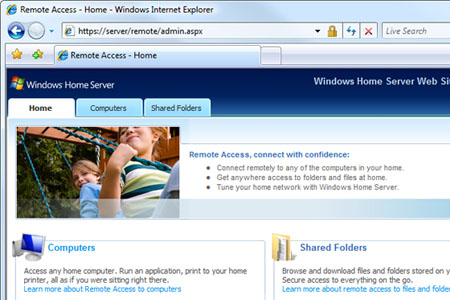 Media Server:  This, combined with the Network Storage, are the main reasons I wanted a NAS, and WHS works smoothly, enabling media sharing via Windows Media Center, Windows Media Player and iTunes.  I'm a huge fan of Media Center and was happy to see that it was more or less zero-configuration to get it up and running with my Media Center PC.  Just enable, and away we go.  I do the majority of my media via my Xbox 360 (sometimes with the Media Center Extender, sometimes with the native file structure), and the shares showed up on both with no extra hassles.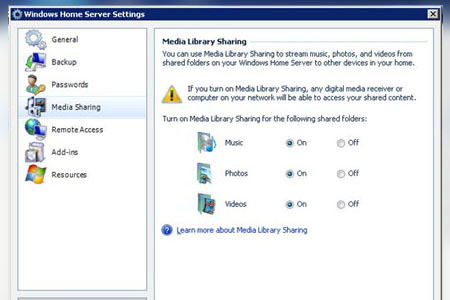 I can't speak to the iTunes integration, but by all accounts, WHS does support functioning as an iTunes server.
Doing More:
Because it's a Windows machine, digging into the guts or running custom software is pretty simple for someone who knows their way around Windows.  Ever since WHS launched in 2007, a growing community of users have come up with many great solutions.
One of the additional programs I added to my WHS setup is Juice, which is an RSS podcast catcher.  Moving all the media catching to the server has been surprisingly handy.
Another program that works well on WHS is uTorrent, the popular Bit Torrent client.  For some time now, uTorrent has had the ability to watch RSS feeds for new torrents, including the capability to set up simple filters to watch for files with specific names.
Installing uTorrent itself is pretty straight forward, but you'll need to make sure you have a couple of other utilities running on the WHS box, including a handy application called Advanced Admin Console, which gives you greater access to the box, as well as AnyService, which allows you to set up any program to run as a service on startup. It was simple to assign uTorrent to not only start on a reboot (which should be hardly ever anyways), but to have it automatically refresh the feeds, place them in a dumping ground and have them renamed.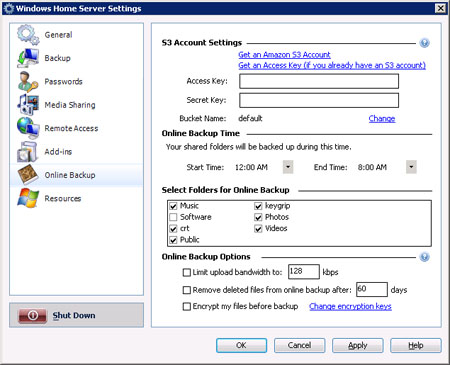 One thing still on my to do list is to set up WHS to automatically back up important data to an online back up service.  The popular Jungle Disk has a WHS specific add-in, and will allow me to back data up for a flat fee of 15 cents per gigabyte.  Other than some document files, I'd like to back up all my photos "just in case".  With 15 GB of photos currently sitting on my drive, the back up cost is a whopping $2.25, or less than a half pint of Guinness.
The Wrap Up:
When I first opened the front panel and saw that the OS was installed on a hot swappable drive, my first inclination was to remove it and use a spare drive to install Windows 7 or Linux (both of which have apparently been done).  After using the WHS software though, that idea has become more of an academic exercise "just because I could" as opposed to getting something more functional out of it.
Although I've only been running the Easystore for about a week, I already see it as probably the smartest computing purchase I've made in a long time.  From the security of knowing that my systems are always backed up, to a unified media server, and a lot of head room in storage capacity, the Easystore with Windows Home Server is a great combination, and far easier to use than other NAS solutions I've taken a look at.
So if you're concerned about backing up critical files, having remote access to your home computers or just need more storage, I couldn't recommend the Easystore highly enough.