Rogers Samsung Galaxy S Captivate coming soon, "Register today to receive updates"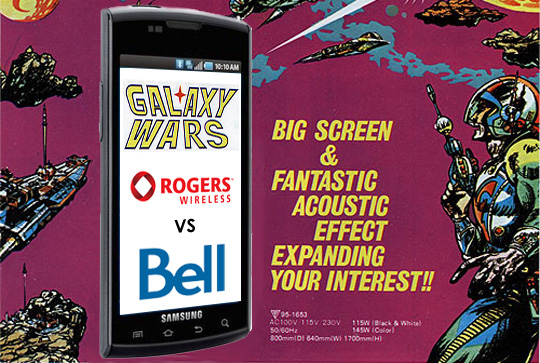 It was perfect timing: Rogers, hoping to steal a little of the thunder from Bell and Virgin with their big Galaxy S launch concert with Metric, announced their version of the Galaxy S, the Captivate (already available in the US on AT&T), the same day, August 4th 2010.
While I was already pretty excited about the Galaxy S by the day of the concert, having already got to use one for a few days by then, the Rogers news was even better.  The Bell Galaxy S Vibrant is a great phone, but looks too much like an iPhone 3G for my tastes. The Captivate is a unique looking phone, and I was doubly excited when I got to briefly play with a one at the event.
Since the announcement a few weeks ago the initial interest in this phone has not subsided at all. In fact it seems to have grown, and the original post on the Rogers Redboard has 313 comments, yes a far cry from the iPhone 4's 1254, but for an Android phone on Rogers it is quite impressive.
Most of those comments though are people debating the final specs (which are exactly the same at the AT&T version), and asking what 'coming soon' actually means. Since it was clear that people want more information, Rogers has decided to put up a page where you can sign up for more info here.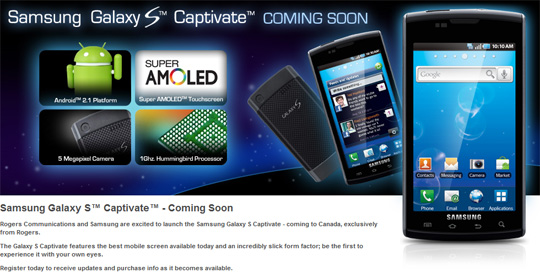 Samsung has a clear and simple strategy. Offer a Galaxy S on every major carrier that wants to carry it (and who wouldn't with its specs). In the US T-Mobile, Verizon and AT&T all have very similar versions of the phone – it is only Sprint, with their 4G network, who is getting something slightly different – the Epic 4G.
Here in Canada Samsung are pursuing the same strategy, but unlike the US, where all four variants were announced at the same time, they are staggering the releases, most likely at the behest of the carriers. Is the Galaxy S a 'killer-app' phone? Bell seems to think so, probably agreeing to buy large, and promote heavy, for at least a month of exclusivity. Certainly the interest on the interwebs was high enough that Rogers felt that they had to pre-empt any official announcement from Samsung about the Captivate, in order to prevent Android fanatics jumping ship to Bell.
Even though Rogers brought Android to Canada they have quickly fallen behind both Bell and Telus in the race to bring a premium Android phone to Canada. Finally, with the Captivate, they have a contender for the best Android phone in Canada crown.

(Note: With the recently released software unlock for all Galaxy S phones if you can't wait for the Captivate you could just buy the Bell Vibrant, and use it on Rogers, or Telus – that is if this hack works on the Bell Galaxy S)
Specifications:
Connectivity: HSPA, Wi-Fi, A-GPS, Bluetooth v3.0, USB 2.0
Operating system: Android 2.1
Multimedia: Camera 5 MP, HD video recording (720p), FM radio, Media player
Supported file formats: Audio: AAC, AAC, MIDI, MP3, WMA, Video: 3GP, MP4, WMV Voice recorder
Super AMOLED Display size: 4″
Resolution (pixels): 480 x 800
Battery Capacity: 1500 hi capacity mAhr battery
Talk time: Up to 5 Hours 50 Min
Standby time: 340 Hours
Dimensions: 4.18 x 2.5 x 0.39
Weight: 4.5 ounces
Memory: Internal memory storage 16 GB, Expandable memory storage 32 GB
Memory format: micro SD(TM)
Keyboard: Includes SWYPE
This article now featured on the Future Shop Tech Blog here.
A gallery of the AT&T Captivate, and the Rogers test version (the AT&T one with a stock ROM) I saw in the wild at the Galaxy S Metric concert: