Acer launches new TimelineX thin and light notebooks in Canada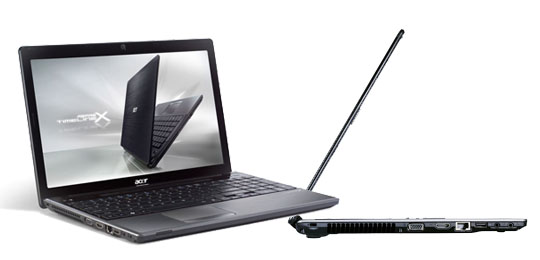 It's been a while since we've seen a update to Acer's Timeline series of thin and light notebooks.  In fact, when they launched in North America, they weren't officially known as Timeline machines at all, but the rather more pedestrian model numbers, such as the AS1410, which we took a look at last September.  At the time, the AS1410 represented a great value for someone looking for something more powerful than a netbook, without the bulk that a more traditional notebook.  Due to the ultra low voltage CPUs in the lineup, the Timeline was also able to deliver 8 or more hours on a single charge, making it that much easier to tote around.
The new TimelineX series,  sounds like an excellent refresh, delivering similar all day battery life in a sub 1″ thick form factor powered by newer Intel Core i3 or i5 processors, and running Windows 7 Home Premium.  With black brushed aluminum finish, and LED backlit screens in sizes ranging from 11.6″ to 15.6″, and the option of discreet ATI graphics, the TimelineX series looks very interesting.
Of course, I'm still hoping against hope that a refresh of their convertibles will make it to North America some day.  In the meantime, you can catch the gallery and full press release after the break…
Press release
Acer Brings Significant Performance Boost to its Thin and Light

All-Day Computing Line with New TimelineX Notebook PC Series
Featuring Full Power Intel Core i3 and i5 Processors, New TimelineX Delivers Exceptional Performance and Long Battery Life in a Sleek Design
MISSISSAUGA, ONTARIO, August 4, 2010 – Bringing a new level of performance to its award-winning Timeline Series of thin and light notebooks, Acer Canada today launched the Aspire TimelineX family. This next-generation product line delivers the extreme mobility and battery life performance the Timeline Series is known for, and elevates it with impressive processing power. Available today at retailers throughout Canada, the TimelineX Series starts at CAD $629.99.
The Aspire TimelineX notebooks are ideal for consumers, students and professionals on the move, who require extreme PC portability without being tethered to a power source or compromising computing performance. The Aspire TimelineX notebooks are designed to deliver eight hours of battery life,(1) achieved by combining Intel's latest Core™ processing technology, advanced power management and LED backlit displays, resulting in a thin, light, more energy-efficient and longer lasting mobile PC.
Extreme Thin and Light Mobile Performance
The new Aspire TimelineX Series is available in three distinct notebook display sizes, including the 11.6-inch Aspire Timeline 1830T, 13.3-inch 3820T and the 15.6-inch 5820T. Housed in premium, black brushed aluminium, the TimelineX notebooks are sleek and portable at less than one-inch thin in lightweight form factors ranging from 3 to 5.5 pounds.
Offering either Intel® Core™ i3 or Core™ i5 full-voltage processors and ample 3GB or 4GB of memory, the TimelineX Series is well-equipped to tackle multiple applications. Aspire TimelineX users can multitask vigorously, even with graphic-intensive applications, simultaneously exploring the Internet, listening to music and downloading videos – all on the go. The entire line of TimelineX notebooks comes with Windows® 7 Home Premium for maximum productivity.
Mobile Form Factors for Every Lifestyle
For consumers who require a full-size notebook with plenty of screen real estate, the 5.5 pound, 15.6-inch Aspire 5820T is ideal. The Aspire 5820T notebook features an integrated optical drive and comes configured with the Intel® Core™ i3 processors, 500GB hard drive and 4GB of memory. For quick, one-touch control, the Aspire 5820T features Media Controls to open often used programs and control media, and sports a dedicated numeric keypad. The starting price for the Aspire 5820T is CAD $799.99 (MSRP).
At just under four pounds, the road-ready Aspire 3820T features a high-def 13.3-inch CineCrystal™ LED backlit display. Priced at CAD $649.99, the Aspire 3820T comes stocked with an Intel™ Core® i3 processor, 4GB of DDR3 memory and a 320GB internal hard drive.
For users who require systems with discrete graphics, the Aspire 3820TG features ATI Mobility Radeon™ HD 5470 Graphics for realistic gaming, video and more with full DirectX® 11 support. Switchable™ Graphics technology lets users have the best of both worlds with maximum performance when needed and long battery life when on-the-go. The Aspire 3820TG also utilizes Acer PowerSmart technology, which automatically adjusts the PC's power settings to maximize performance and allow all-day computing on a single charge. One touch of the keyboard's PowerSmart button adjusts the display color and brightness and saves 66 percent more power in sleep mode. Available with an Intel® Core™ i5 processor and Intel® Turbo Boost Technology, 4GB of DDR3 memory and a 500GB internal hard drive, the Aspire 3820TG is priced at CAD $799.99.
The smallest member of the TimelineX family, the extremely portable 11.6-inch Aspire 1830T is ultra light at 3.09 pounds. Easy enough to carry anywhere, the Aspire 1830T features a 100% full-size keyboard for accurate and comfortable typing, and a multi-gesture touchpad for mouse-less, fingertip control. The notebook priced at $649.99 packs the powerful Intel™ Core™ i3 ULV (ultra low voltage) processor, 4GB of DDR3 memory and a massive 500GB internal hard drive for storage of digital albums, a music library and rich media files. Core® i3™ ULV configurations with 4GB of DDR3 memory and a 320GB hard drive begin at CAD $699.99.

Smart PC Performance
Built for mainstream mobile PC users, Intel® HD Graphics provide superb visual performance for sharp images, rich color and lifelike video. The Aspire TimelineX Series sports stunning widescreen CineCrystal™ LED-backlit displays featuring 16:9 HD True Cinematic View for enriched multimedia playback. Integrated Intel graphics and discrete ATI graphics options allow users to view high-def content in full HD with stunning clarity and easy viewing at any angle.
The Aspire 3820T and Aspire 5820T notebooks utilize Dolby® Home Theater® v3 to complete the audio multimedia experience, while the Aspire 1830T boosts 2nd Generation Dolby Sound Room® Audio Enhancement to deliver surround sound from any pair of speakers or headphones. The TimelineX Series also features HDMI™ connectivity for enjoying high-definition entertainment on large external displays.
To remain connected wirelessly, the Aspire TimelineX notebooks feature 802.11 b/g/n Wi-Fi CERTIFIED™ and fast Gigabit Ethernet LAN connectivity. A built-in 1.3 megapixel HD webcam delivers smooth video streaming and high quality images for online chats and video conferences. A built-in digital microphone conveys superior voice quality, keeping background noise levels low and minimizing echoes. Some Aspire TimelineX models also come equipped with Bluetooth® for seamless connectivity to a variety of devices.
The TimelineX notebooks feature a Multi-Gesture Touchpad, allowing users to pinch, flick and swirl their fingers across the touchpad for intuitive navigation. It also allows users to scroll, zoom in and out, and flip through web pages, photos, spreadsheets and more. The TouchPad can also be disabled with a one-touch button, eliminating accidental cursor movement with palms and wrists when using an external mouse.
The convenient Backup Manager lets consumers easily select and protect their irreplaceable digital files through regular scheduled backups or on an as-needed basis. Data can be backed up to an external hard drive, flash drive, thumb drive or to a secure hidden partition on their PC.
The new Acer Aspire TimelineX models come with a standard one-year parts and labor warranty, which can be extended to three years with the Acer Advantage service. All Acer notebooks are backed by toll-free service and support(2).
Acer is Canada's No. 2 overall PC provider(3). More information about Acer and its products in Canada can be found at www.acer.ca

About Acer
Since its founding in 1976, Acer has achieved the goal of breaking the barriers between people and technology. Globally, Acer ranks No. 2 for total PCs and notebooks.(3) A profitable and sustainable Channel Business Model is instrumental to the company's continuing growth, while its multi-brand approach effectively integrates Acer, Gateway, Packard Bell, and eMachines brands in worldwide markets. Acer strives to design environmentally friendly products and establish a green supply chain through collaboration with suppliers. Acer is proud to be a Worldwide Partner of the Olympic Movement, including the Vancouver 2010 Olympic Winter and London 2012 Olympic Games. The Acer Group employs 7,000 people worldwide. 2009 revenues reached US$17.9 billion. See www.acer-group.com for more information.
© 2010 Acer Inc. All rights reserved. Acer and the Acer logo are registered trademarks of Acer Inc. Other trademarks, registered trademarks, and/or service marks, indicated or otherwise, are the property of their respective owners. All offers subject to change without notice or obligation and may not be available through all sales channels. Prices listed are manufacturer suggested retail prices and may vary by retail location. Applicable taxes extra.
1. Battery life varies depending on product specifications, computer settings and applications or features launched. All batteries' maximum capacity diminishes with time and use.
2. Limited warranties and service agreements apply. May not be available in all locations. Other conditions apply.
3. Source: Gartner data, FY 2009