Trio of Acer convertible tablets announced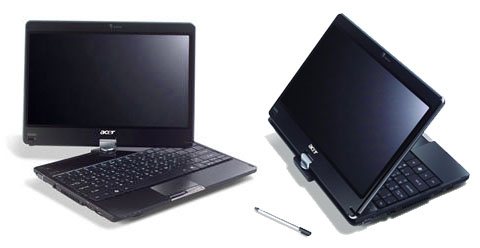 Netbooks have been with us for a couple of years now, and although the market has been one of the largest growing consumer tech sectors, there's been little innovation beyond increasing screen size and the blurring of lines between netbook and laptop. Sitting squarely between the netbook and laptop markets are ultra thin devices that range from reasonably priced products like the Acer Timeline to the ultra expensive and stylish Dell Adamo and Sony Vaio X. I had a chance to play with the Acer 1410, and found it to be a decent bump up from a netbook, but didn't see
One area of innovation that has been slow to take off is the convertible tablet form factor, which would allow the user to rotate the screen from traditional laptop to portable tablet. In the smaller form factor only the svelte but underpowered T91 and more powerful but decidedly chunky Gigabyte tablets have been released, but that appears to be changing.
Acer has announced a trio of convertible tablets, the 1420P, 1820PT and 1820PTZ, which all sport 11.6″ screens. The major differentiation between the models are the CPUs, with the 1420P using Celerons, while the 1820PTZ with Pentium and 1820P sporting Core 2 Duo chips. According to the product pages, there will be two screen resolutions to choose from for each model, either 1024×600 (WSVGA) or HD 1366 x 768 (WXGA).  The variety of processor, memory, storage and resolution options suggests that Acer will be targeting a rather large swath of the market, and their aggressive price points combined with a strong North American retail presence might finally be the boost to put convertible tablets in the consumer mainstream as opposed to the niche it's been so far.
Helping this along, the new line up will ship with Windows 7 Home Premium, and have multitouch support out of the gate, though there is a stylus for handwriting.  There's no official word yet on the exact technology behind the on-screen interactions.  They will ship with a number of multitouch friendly applications including some Microsoft applications originally developed for the Surface.  Weight will be approximately 1.7kg, so they'll be heavier than the average netbook, but lighter than the average 13″ laptop, and will sport an estimated 8 hour battery life, thanks in part due to the CULV (Consumer Ultra Low Voltage) processors. For wireless connectivity, Acer includes WiFi (including draft N), Bluetooth 2.1 +EDR plus optional 3G data connections if you want to roll with your data carrier of choice. A full complement of ports, including 3 USB, a multi-card reader, and both VGA and HDMI outputs are also on board.
Though no official release date has been announced in North America, Engadget Chinese and the power of web translation suggests that it will be available in November, at least in China.  That there's also an Italian hands on (also translated link) recently posted suggests the roll out may be world wide soon.