Acer Aspire AS 1410 aka Timeline Review
Ever since the netbook market took off, tech pundits have been asking "What are the defining characteristics of a netbook?"  Is it price, size, storage or some combination thereof?  I can safely say that Aspire AS 1410 (also known as the Acer Timeline in Europe but oddly rebranded here) should not only be considered on the fence between netbooks and 'thin and light' machines.  It pretty much IS the fence.
With an 11.4″, 1366 x768 display and a full sized keyboard that feels as expansive as the prairies compared to the average netbook.   3 GB of memory and a 250GB hard drive keep it in the same "this is too big to be a netbook" category.  Pulling it back towards the fence is the overall size.  Though bigger due to its screen, the AS 1410 manages to stay very portable, thanks to a thin bezel around the screen and a thin and fairly light 1.4 kg body, including the 6 cell battery.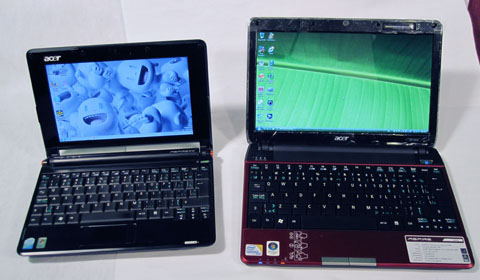 Unfortunately, a couple of other factors keep it on the cheap.  The Intel Core 2 Solo SU3500 (which clocks in at 1.4 GHz) coupled with the Intel GMA 4500 graphics chip are better than the typical Atom 1.6GHz/GMA 500 combo found on the average netbook, but not TOO much better, except in the graphics department.  That's not bad, because you CAN get things done, even with an Atom.  I have to admit that I WAS saddled with Vista on this unit, and didn't have the option to install Windows 7, which would have made a world of difference.  I would like to see the Core Solo processor paired with a beefier graphics chipset such at the ION or an AMD mobile solution, but that would also drive up the price.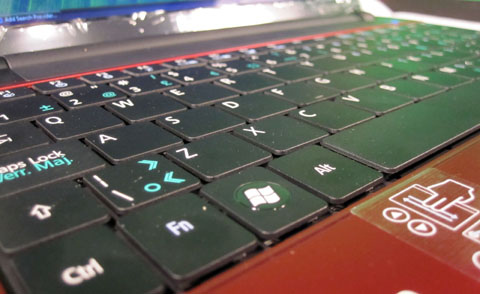 There's no doubt that a full sized keyboard does make a difference in everyday usage.  The AS 1410 uses a chicklet style keyboard, but has less flex than many others I've seen, which is a good thing.  There had to be some sacrifices made to accomodate a full keyboard on a smaller machine, so some of the functions such as 'Home' can only be accessed by using the function key combo, much like the Aspire One, but it's a fair trade off, given the ease of typing overall.  The multi-touch trackpad and buttons are interesting.  Acer decided to completely blend the trackpad itself into the body, so there's no way to distinguish where the pad ends and the body begins.  From an aesthetics point of view it looks great, but there is an attached learning curve.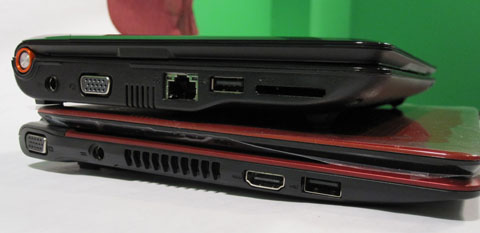 There's a full compliment of ports, including VGA, 3 USB ports, and mic in/audio out.  There's also an SD card slot, but with one minor annoyance.  When inserted, an SD card does stick out by a couple of millimeters.  It's in no way as obnoxious as the Dell Mini's protruding card slot, but I have to wonder if Acer couldn't somehow find just that tiny bit more space inside to make it flush.
One of the nice additions not seen on too many netbooks is the HDMI port, which makes hooking it up to an HD display easier than using a VGA port.
Performance was about what I expected.  When officially benchmarked, the Core Solo SU3500 is about 20 percent faster than an Atom N270 at 1.6GHz, but 'real world' it felt about the same.  Knowing the difference in real world experience between Vista and Windows 7, I can only imagine that with 7 the 1410 would be noticeably snappier than its Atom brethren.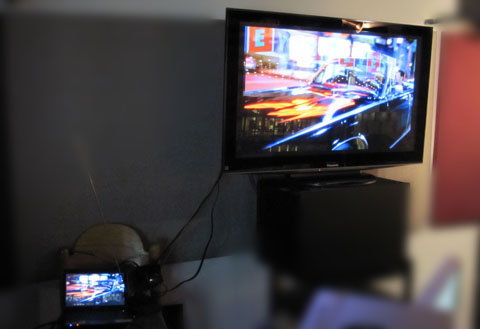 For media this is certainly a nice little machine, but once again, without a good GPU, some HD Flash content does see stutter and minor delays.  Using the rgbFilter Montage! video as a test, the YouTube HD version played back with smooth audio but at about 10-12fps (better than Atom, but not great), whereas the original 720p MP4 had no problems whatsoever.  I'm  going to chalk part of this up to the Vista OS, as Windows 7 just seems to handle heavy lifting better when coupled with a low-end CPU.  As for HD output over HDMI, it looked great on the studio's 50″ Panasonic plasma TV.  The 4500 GPU is certainly much better than the typical Intel GMA 450/500 found in netbooks for video playback, but when it comes to gaming, is still no Nvidia ION.
It should be noted that since this ISN'T a netbook, it may also DOES qualify for an upgrade to Windows 7, so if you're looking at this, keep the upgrade in mind.  I imagine that it will be sold with Windows 7 once the OS starts shipping.
The 1410 I'm using comes with a 6 cell 4400 mAh battery that integrates with the body quite nicely, as opposed to the hump that you sometimes see on 6 cell netbooks.  The promise from Acer of about 6hrs of battery life is also pretty much accurate.  It used to be that manufacturer ratings were somewhat circumspect, but lately the trend of being honest has started to take off.
Another nice addition to the 1410 is the addition of 802.11n wireless.  Although I don't have n at home, so I couldn't test it, now that n has been ratified, including it as standard is a good thing, and adds another much needed notch to the 1410's capabilities.
In The End:  At almost double the price of many Atom based netbooks, the AS 1410 (and most other Core Solo based machines) just don't offer the 'bang for buck' ratio that I like – AKA fastest and cheapest.  A 20%-25% performance gain for the price is almost too much, especially if you're already using a netbook like a Dell Mini or Aspire One.  The only compelling reasons I can see would be the much roomier keyboard and higher resolution screen.  If you're new to the market however, and you already know a netbook might be too restrictive, the 1410 may work for you.