Panasonic GH1 HD-DSLR hacked into awesomeness?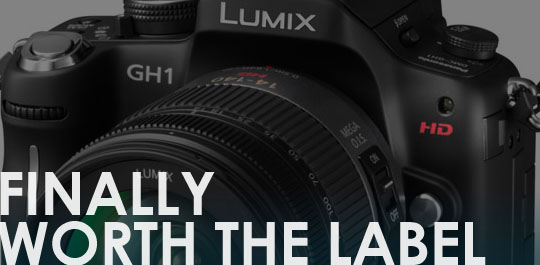 This bit of news via DP (director of photography) and filmmaker Philip Bloom's website is pretty impressive!  With all the fanfare the Canon HD-DSLRs have been getting lately about their astounding HD video capabilities, it's left other less capable HD-DSLRs out in the cold.  Such is the case for Panasonic's Micro Four-Thirds HD-DSLR, the GH1.  Although a solid still camera, with some great Lumix lenses available for it – even the mighty Leica makes lenses for the Micro Four-Thirds format – it just doesn't have the chops for HD video.  The problem with it lay in its video codec, 17 Mbps AVCHD for 1080p/24p and a really crappy implementation of 720p MJPEG.  That caused the video to turn really soft and muddy when you move the camera around even a little bit.  If you put it on a tripod and shoot something that doesn't move, the quality is stunning, but not very useful as a digital MOTION picture camera.
All that has changed.  Using a custom GH1 firmware editor developed by Tester13 at DVXUser, Andrew Reid of EOS HD has hacked the firmware for the GH1 and has not only removed limitations, but implemented a much better codec.  Now with a little bit of elbow-grease, the GH1 has been given a 50 Mbps MJPEG codec for 1080/30p and the new 32Mbit AVCHD 1080p native 24p MTS files.  He attests that the footage that you can now shoot with the GH1 is at a higher quality than Canon's 5D Mark2.  He's posted his sample video on Vimeo and it does look fantastic!  The only downside is that video filesizes are limited to 2 GB each because the GH1 uses the older FAT file system on its cards so you can only record up to 3 mins. per clip.
Sample video, and more performance results on the hacked GH1:
More hands on with the 3rd party firmware, via Philip Bloom.
[Source]
Tags: EOS HD, GH1, HD DSLR, Magic Lantern, micro four-thirds, Panasonic, Philip Bloom, Tester13