Don't Miss the 2010 Toronto Comic Arts Festival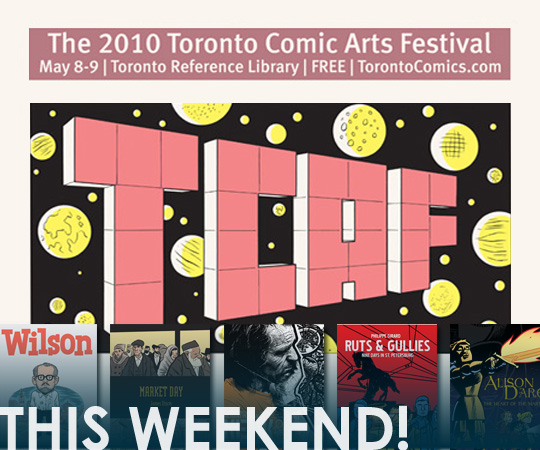 The first Toronto Comics Arts Festival was held in 2003, as a "natural progression of years of disparate book signings, author appearances and miscellaneous events" put on by world renowned Toronto comics store The Beguiling. Since that first event, it has quickly grown to be one of the most preeminent comic festivals in the world. Unlike other comic conventions, like the Toronto Fan Expo and San Diego Comic-con for example, TCAF does not focus on the big names (Marvel, DC etc.), nor is it full of aging actors from old TV shows and sci-fi movies, autographing photos for an exorbitant price. TCAF is all about the comics medium as a true art form, and the guests cover a broad spectrum, from web and handprinted mini comics, to more 'mainstream' graphics novels.
The Toronto Comic Arts Festival exists to promote the breadth and diversity of comics, and what is considered comics, as legitimate medium of literary and artistic worth. We seek to promote the creators of these works in their broad and diverse voices, for the betterment of the medium of comics and to reach as wide an audience as possible for them…While most of shows of this nature are pop-culture events and tend to be insular in nature, we wanted to do something that dealt more specifically with the art form of comics itself, with an emphasis on genre appreciation and open interaction between creators and their community.
This weekend sees the return of TCAF to the Toronto Reference Library, and as we draw closer, more details are being posted on the Toronto Comics website. You can go there to get a programming guide, floorplan, and a complete guest list. Like last year, rgbfilter will be covering the entire event – interviewing the artists and videoing the panels – if you see us, come say hello!
Some of the highlights for us would be the headlining guest, Dan Clowes, author of Ghost World, who is coming to Toronto to present his new book Wilson, James Sturm, author of The Golem's Mighty Swing, who will be there with his new book Market Day, and rgbfilter favourite Evan Dorkin, creator of Milk and Cheese, Dork and Hectic Planet – there so are many more that we are excited to see, that we can't list them all!
Along with the guest artists, TCAF also holds panels and special programming on both days of the festival – and two that we are looking forward to are The Spirit of Indie: Where Comics Meet Video Games panel on Saturday at 2pm, and Web-comics and Serial Storytelling on Sunday at 12pm.
TCAF kicks off on Friday at Toronto Reference Library, 2nd Floor, 789 Yonge Street, with a special event at 7pm, Daniel Clowes presents WILSON.