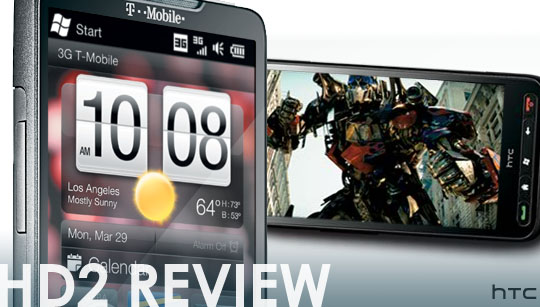 When the HTC HD2 was released overseas last fall, it quickly gained a lot of fans. They couldn't help but appreciate the bright, massive screen and the design of the phone itself. This included reviewers generally down on Windows Mobile 6.5. Now that the phone has officially hit North American shores via T-Mobile US, we take a look at it running on Wind Mobile here in Canada.
Out Of The Box
First impressions are important, and the HD2 absolutely nails it in this department. The design of the phone itself is simple and elegant. Even though it's a massive slab of a phone, it's a well-designed slab, with subtly rounded corners, and a two tone back that is comprised of an HTC favourite, soft-touch plastic, with a metal midsection for access to the battery, SD and SIM slots. The front is almost completely occupied by the massive 4.3″ screen, with 5 unobtrusive buttons along the bottom. With a screen that large, there's no getting around the fact that if you have really small hands, it may be almost too much phone to grip. Even so, HTC has done a great job of minimizing the size by keeping it at a very svelte 11mm at its thickest, while tapering the edges down to a mere 7mm.
The build quality of this phone has few, if any, peers.  It makes everything else feel like a toy.
Much more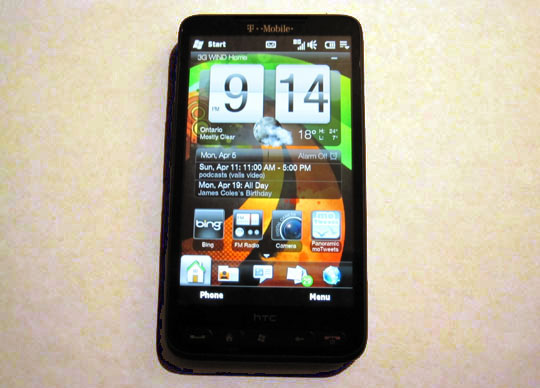 T-Mobile Add-ons
As I mentioned off the top, it's running on Wind Mobile in Canada.  Because of this, I can't really comment on some of the T-Mobile specific applications such as MobiTV, Slacker or Blockbuster, since they are US specifc, at least on the HD2.  One of the more odd pairings though is the inclusion of high quality MP4 videos of both the Transformer movies.  Although I never made it through the first one, they do provide a good 'out of the box' example of the quality of the video playback on the device.  With the bright WVGA screen, they look spectacular, regardless of the actual content.
Swype
There's one other add-on that needs to be pointed out.  HTC has always had a great on-screen keyboard, and in Windows Mobile, you can add on other ones.  Out of curiosity, I tried changing my default keyboard, and was surprised to see that it included Swype.  If you're not familiar with Swype, it looks very much like other onscreen keyboards (especially the Android keyboard).  Instead of individually tapping out letters, you spell out words by moving your finger from letter to letter.  When you stop, the word is spelled out for you.  In cases where there are a number of potential words, you'll get a pop-up list.
Swype is amazing at typing out longer blocks of text.  It makes traditional letter-by-letter typing feel obsolete.  It does have drawbacks though.  In the case of entering URLs and email addresses with non-standard words, sometimes it will substitute a different 'normal' word, or pop-up a list of 'normal' alternatives.  Though this can be a little frustrating, I subconsciously started just tapping out email addresses once I became aware of the issue.
Swype is certainly the best on-screen option for long-form text input, and in a perfect world it would be a single key to switch between HTC's onscreen keyboard and the Swype version.  Swype is now starting to appear on a number of Windows Mobile and Android devices.
Under The Hood
To match the look of the phone, HTC has also delivered the goods internally. The HD2 is powered by a 1GHz Snapdragon processer, which delivers silky smooth application launching, and makes scrubbing around in the Sense UI a breeze. For the North American launch, HTC also bumped the internal memory to 1GB of ROM and 576MB of RAM. There's also a MicroSD slot which allows for up to 32GB of additional storage. Besides the phone radio (quad band GSM plus WCDMA/HSPA 1700MHz and 2100MHz, the phone supports WiFi and Bluetooth 2.1. It also has the full complement of sensors one would expect in a high end smartphone: GPS/A-GPS, accelerometer, digital compass, and proximity sensor. The phone also sports a 5 megapixel camera that also records 640×480 30fps video, and includes auto-focus and dual LED flash.
In short, it has everything inside it that a modern premium smartphone needs.
User Experience
When it comes to experience, there's one thing that should be addressed right off the top.  The HD2's capacitive screen makes a world of difference.  Windows Mobile phones have traditionally used resistive screens, and although I've used a number of Palm OS and WM phones happily without a stylus, there's no denying that the capacitive screen really does trump resistive in many areas.  I don't really care about multitouch, as double tapping on a photo or web page does a good job of zooming, while using the device one handed.  It's the sensitivity of the screen that matters.  There really is no going back.
Sense UI
When it comes to the software, one of the first things many would balk over is that the HD2 runs Windows Mobile 6.5. With Windows Phone 7 coming out on the other side of summer, this could be a valid concern, but HTC has delivered something more than just a WinMo phone. Over the past few years, HTC has been developing their own user experience, which started with TouchFLO on Windows Mobile devices. Since then, they've further refined it to the Sense UI, which can be found on the HD2, as well as a number of their Android devices.
If you're not familiar with the basic concept of Sense UI, on Windows Mobile it provides a graphically rich user interface, that puts an overview of just about all your information a single swipe away. To do this, Sense utilizes a bottom row of tabs for everything from email and twitter to documents, media and calendar information.
The Home tab alone is extremely useful, as you're presented with a gorgeous clock, complete with weather report, calendar overview, some quick launch apps, and via the bottom tabs you can also see how many unread emails and SMS you have. One of the best eye-candy features of the Sense Home tab is the animated weather report. If it's raining, drops of water will appear to splatter all over the screen, only to be wiped away by a windshield washer. On a cloudy day, clouds will encroach the screen from the sides, without completely obliterating the information.
Web Surfing
The Opera browser has been a stalwart for Windows Mobile devices, far outshining past iterations of Microsoft's own Internet Explorer for mobile phones.  The HD2 comes with Opera 9.7 installed, and it's a great experience.  In the past, I often had my netbook handy to check something up quickly.  Now, the HD2 is serving that purpose all the time.  With a large WVGA screen so good that you can read web text without zooming in (depending on your eye sight of course), and a fast processor for rendering those pages, it makes quick browsing a breeze.  To get a better idea of the screen, the following two images show the device not zoomed in, then I cropped a text portion of the page, without further enhancements.  This is not zoomed in, just a crop from the original image before scaling to fit this article…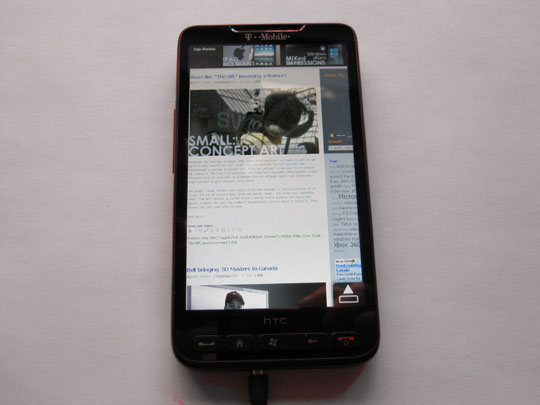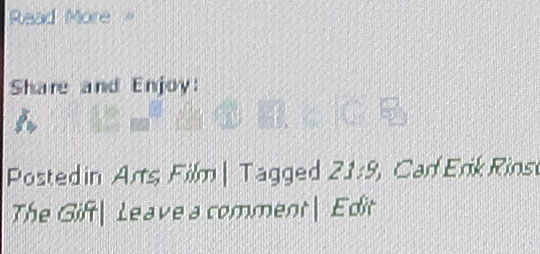 Sense also represents a much deeper customization of the underlying Microsoft OS, as Sense replaces the menus, settings and info panels with their own version, which better integrate with the look and feel of the UI. There are still points where Windows Mobile appears, such as Microsoft's application list, and although the Email tab in Sense works great, you'll still see Outlook Mobile underneath. From a functionality point of view, there's nothing wrong with this, but visually, it's from another era. One of the nice touches is that once you send the email, you are delivered back to where you left off in the Sense UI, while on older Windows Mobile devices, you'd be presented with the Inbox for the particular email account you were using.
The People tab works well as a "Favourites" page, allowing you to pull people from your contacts list and put them on the tab.  When you add someone, you're given the option to make the quick-link do whatever you choose, from dialing any one of the stored numbers, email, SMS or more.  One of the nice features is that if it's someone you contact in a variety of ways regularly, you can make it show their contact page and pick your poison on a per-use basis.  Additionally, if you've configured your Facebook account with your phone, you can opt to use the person's Facebook profile picture as their contact picture, and there is a separate tab for showing their Facebook updates in the People program.
For Facebook fans, when you enter the All Contacts page, you'll see how many outstanding pokes, invites, and friend requests you have.  Although you can't directly respond to them, tapping on one will take you to the Facebook web page.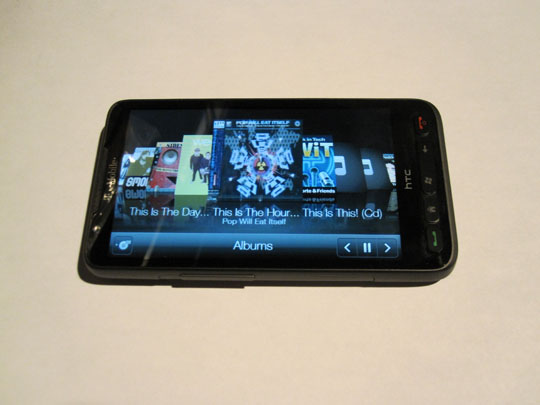 For multimedia purposes, the Music tab does a great job of audio playback, and HTC has also included a good audio manager for browsing by artist, genre, album etc.  Although there are a number of 3rd party options for syncing your music to the device, I've been perfectly happy with using Windows Media Player on the PC.  When connected to a PC, Windows Media Player shows separate sync options for both the storage card and the internal memory, which is handy if you want to sync some custom MP3 ringtones to the device itself while keeping your music on SD.  Of course, you can still use a file browser to explore the phone as well, if you don't care about the 'sync'.
Video playback works well.  It didn't have any problem with the MP4s I've thrown at it, and the experience of watching a video on this is night and day compared to what smart phones were capable of a few years ago.  Due to the high resolution screen and vivid colours, you don't feel like you're 'missing' anything from the experience.
Sense has a number of other tabs available, from Twitter to Recent Documents, which further expand the quick overview concept of the UI, and tabs are easily enabled and disabled through a menu in the Home tab.
Battery Life
Battery life on any smartphone is always a bone of contention.  As every other aspect of technology advances, efficient battery development has moved at a snails pace.  The 1250 mAh battery in the HD2, which struck me as a bit skimpy, did supply better than expected results.  The HD2 makes it through an average day for me (8am to 11pm) with about 40-45% battery to spare.  This means a few phone calls, checking a few web pages (10 or so), replying to some emails and about 2 1/2 hours of mp3 playback.  This is while the HD2 is checking 3 email accounts every 15 minutes, as well as two Twitter accounts in the background every half hour.  This is definitely a decent performance level and if you absolutely need to make it to a second day without a charge, constant
Camera
It's a shame that there's no dedicated camera button on the HD2, because the 5 megapixel camera on this phone is nothing short of excellent.  A lot of that excellence has to do with the really effective dual LED flash, which has no problems lighting up a completely darkened room and giving you usable pictures.  Although it's still not a replacement for a dedicated point and shoot, it comes pretty close, and you won't feel at a complete loss if you leave your camera at home.  Each of the below images will open to full resolution.  It's worht noting that the first two images were taken in a dark room, with only the flash available for illumination.
The camera can also record at video at up to 640×480, which does a decent enough job.  It's not as impressive as the still pic quality, but the video only had a minimal amount of that phone video wobble, and the sound was decent.
Wind Mobile
Being located in downtown Toronto, I have to say that I've run into no problems with the upstart company's mobile service.  I've maintained solid call quality and speedy data throughout the whole time.  The only drawback to Wind Mobile could be on the data side, as unlike the incumbent carriers, they seem quite strict on what ports are available for data usage.  For example, I sometimes use the Skyfire browser, because it uses a proprietary rendering technique to deliver smooth Flash animation and video.  Unfortunately, that proprietary setup includes sending audio streams through none traditional UDP packets, which Wind Mobile doesn't yet support.
This could be a drawback for those who do more than basic web and email with their phones, but I haven't run into any other restrictions data-wise beyond Skyfire so far.  Call quality on the phone itself is top notch.  In usage, I've had numerous people tell me that it's night and day compared to my own phone.  Part of this is due to the quality of the phone itself, but Wind's 3G voice is also of exceptional quality.
In The End
To be honest, reviewing a Windows Mobile 6.5 phone in 2010 might seem a little outdated, even a highly spec'ed device like the HD2.  With Windows Phone 7 coming out in the fall, it's hard to overlook an underlying OS that has been around as long as Windows Mobile.  That being said, HTC has really overcome the main usability factor with their gorgeous screen and brilliant user interface.  There's a reason why, even with such an 'old' operating system base, the HD2 sold out at T-Mobile in 4 hours.  This phone is currently one of the best on the market, and even worth jumping through a few hoops for until (if) it becomes available in Canada, especially if you're looking for some of the features Windows Mobile has to offer.
UPDATE: If you're looking to use this phone on Wind Mobile, you'll need to change your data connection. To do so, navigate to your wireless controls, either by going to the Settings tab, select 'Wireless controls', and in the Menu pop up select "Connections". From there, 'Manage existing connections', and edit the existing T-Mobile Data connection so that the Access Point Name is 'internet.windmobile.ca' (without the quotes of course). You may or may not have to restart the device for it to take effect.