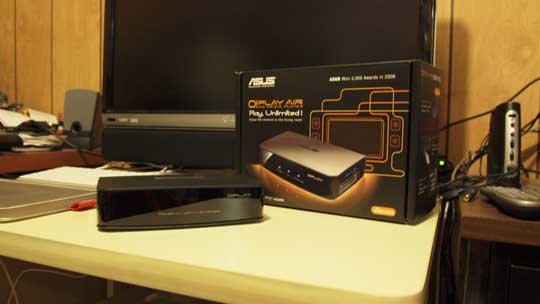 (Editor's note: With newer firmware available Dave has taken another look at the functionality of the O!Play. You can catch the newness that is the update here…)
I've been checking out HD media players lately; mainly because I'm not sold on the future of content being in the form of physical media.  Sony's Blu-Ray may have won the optical media war, but for an increasing number of people – not just us tech nerds like myself – shiny plastic discs are so last decade as digital distribution takes centre stage.  As intangible media becomes more prevalent, getting it from the computer to the living room easily has also become more important.
In my search, I've looked at a lot of devices, none of which addressed all my needs.  After a helluva lot of reading, hemming and hawing, I finally bit the bullet…  on the Asus O!Play Air HD Media Player.  How did it fare?
The last media player I used in great length was Western Digital's WDTV and was thoroughly impressed with it last year.  The only thing that stopped me from buying one was that it did not have WiFi, which is a feature that's on my must-have list because I want the ability to wirelessly stream my media.  Since then, Western Digital had released the WDTV Live player with built-in ethernet, but sadly, no built-in WiFi.
On to the Asus O!Play Air.  For starters, here are the specs:
Supported Formats
Video: MPEG1/2/4,RM/RMVB,VC-1,H.264
Video File Extension: .mp4,.mov,.xvid,.avi,.asf,.wmv,.mkv,.rm,.rmvb,.flv,.ts,.m2ts,.dat,.mpg,.vob
Audio: MP3,WAV,AAC,OGG,FLAC,AIFF,Dolby Digital AC3,Dolby Digital Plus,DTS Digital Surround
Image: JPEG,BMP,PNG,GIF
Subtitle: SRT,SUB,SMI,SSA
I/O Port Input:
DC Power In
1xUSB 2.0 Port
1xUSB 2.0 / eSATA Combo Port
RJ-45 LAN Port
Card readers CF, SD+MMC, MS+MS Duo
802.11n Wireless Networking
Output:
Composite Video
Composite Audio L/R
S/PDIF Out
HDMI 1.3
Accessories
AC Adapter
Power Cord
Remote Control
Composite A/V Cable
Quick Start Guide
CD (User Manual)
Dimensions: 181.0mmx125.3mmx47.7mmmm(W x D x H)
Weight: 479g
Power Source: 12VDC, 2A
Power Consumption: <10W
Operating Temperature: 5°C(41°F)~35°C(95°F)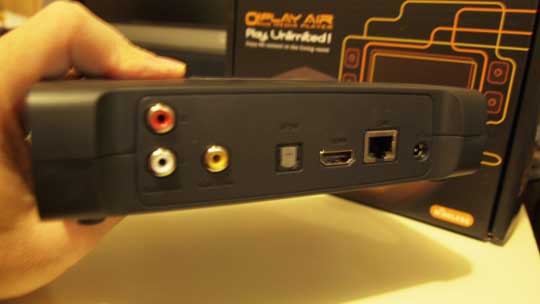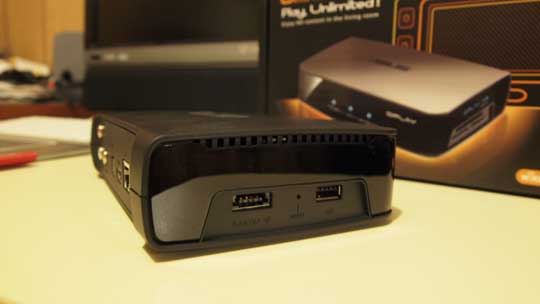 As you can see, this player will play all MPEG-based video formats including H.264 and AVCHD with pretty much every kind of container there is.  What surprised me was that it also plays FLV files which are Flash Video files.  Of particular interest is that it plays VC-1 encoded files.  This is the SMPTE standard 421M video codec (first developed by Microsoft) that is also the supported video format for Blu-Ray Discs and the Xbox 360 gaming console.  Audio-wise, it plays pretty much all the current standard audio formats; MP3, WAV, AAC, FLAC, AIFF and AC3 for example.  One thing that impressed me was the built-in WiFi support, 802.11n to be precise.  Another thing is that it not only has a USB 2.0 port, but also an e-SATA port that doubles as a second USB port.  An e-SATA port!  Not many media players have that.  So for a unit that only costs just shy of $150 (Cdn), that is a really good price; considering a WDTV Live goes for $130-$140 (Cdn) anyway without WiFi.  One thing I feel I do have to mention is that this device is strictly a media player.  It is not a hard drive enclosure, so if anyone is looking for a player with a hard drive inside, this is not for you.
Okay, down to business…
Out of the box, hooking up the O!PLAY is dead easy.  Either connect a HDMI cable or a composite RCA cable to your TV.  For audio, either use the Optical S/PDIF (Toslink) port or just simply connect stereo RCA cables.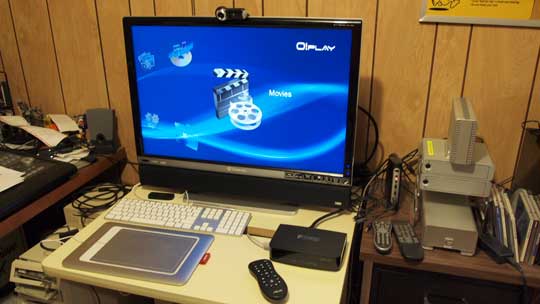 The UI (User Interface) is a pretty slick looking 3D interface, with the standard functions rotating in with 3D icons; Movies, Music, Photos, All Media and Settings.  The IR remote worked well and responded very quickly to button presses.  Some reviewers like the aesthetics of the WDTV UI better than the O!Play Air.  But I think they're both pretty much on the same level.  Both are clear to understand and dead easy to navigate.  Having used the WDTV before, what I did find was that response times of the remote on the WDTV seemed to lag just a shy slower than the O!Play Air.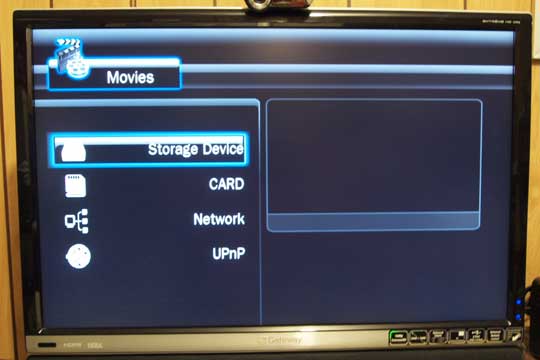 Plug in a USB Flash Drive, USB or e-SATA Hard Drive and you're in business.  The main menu list view allows you to navigate through your drive very quickly and easily.  It shows you the correct directory path so you will know which folder you're sifting through to find that episode of Doctor Who.  That's one thing I like over Western Digital's WDTV; it shows you your directory path.  The WDTV doesn't – instead it automatically searches and displays a list of media files available on the entire drive.  If you have a large hard drive with a lot of files on it, this will take a while.  The O!PLAY AIR does have a thumbnail view to display each file, but if you're like me, I actually prefer the list view, which ends up displaying more file information than the thumbnail view.  Also, in list view, it displays a preview of the media file you've selected in a small window at the top right quarter of the screen.  Now that's very cool.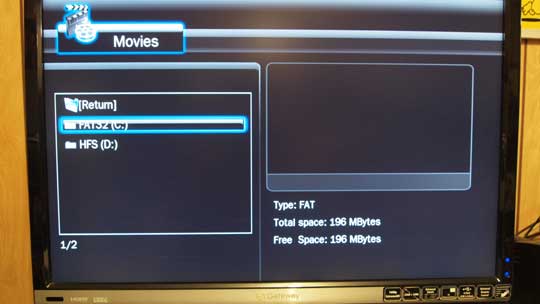 Here's one feature that's not listed anywhere on Asus' website or PDF manual; and I can definitely confirm right here that it works.  The O!Play Air can read Mac formatted hard drives/media.  That's right!  It can actually read from HFS+ partitions when you plug in a Mac formatted hard drive!  Being a Mac user as well, that is a big deal for me.  Let's face it, with the dominance of the Windows OS, the vast majority of media players out there are only made to read FAT and NTFS drives.  It is good that there's a box that I can plug in one of my Mac hard drives and play files off of that if I don't want to leave my Mac or my PC on.  The only other media player I am aware of that can read Mac drives is the WDTV/WDTV Live.  If anyone else knows of other media players that are Mac drive friendly, please drop me a line.
H.264 and MPG 1/2/4 files played beautifully and smoothly in full HD on my 30″ Gateway monitor.  No matter it was inside a MOV, AVI or WMA, the O!PLAY played them without any problem.  Audio was crisp and clear, whether from the TV/LCD monitor or from my multichannel receiver.  Hooking it up to a SD (Standard Definition) TV (I know – sacrilegious), the HD MKVs and MOVs played very quickly and smoothly in SD.  This impressed me because it shows how fast the O!Play Air can down-convert HD to SD and display it smoothly.  One thing I have to mention is how crisp and clear the picture looks, even in SD using the lowly RCA video connector.  Anyone who knows video knows that a SD composite video signal delivered through a RCA cable usually sucks big time.  Not in this case.  When I connected the RCA cable up to my TV, the picture was really, really clear and sharp.  So sharp that it looked like S-Video quality to my eyes.  Seriously.  How awesome is that?
I found the Music Shuffle feature useful.  If you have a bunch of music on a shared hard drive or flash drive connected to it, pressing the Music button on the remote (the button with the music note icon on it) will play your music files in random order.  The cool thing is that you don't have to turn on your TV to do this.  It will find and shuffle play your music files by itself.
The WiFi connected to my Belkin G router without any problems.  Logging onto both my Mac Pro and PC, it was able to pull the video files from either system and played back in glorious 1080p without any hiccups.  Sometimes with these type of media players, companies tend to cheap out on the WiFi hardware, resulting in video that pauses a bit because of the occasional wireless dropouts.  Not the case here.  After playing video after video, the O!Play Air wirelessly streamed the video smoothly without any dropouts.  Nice!  The O!Play Air specs says that it supports 802.11 g/n speeds.  I don't have a 802.11n router handy so I wasn't able to test that out.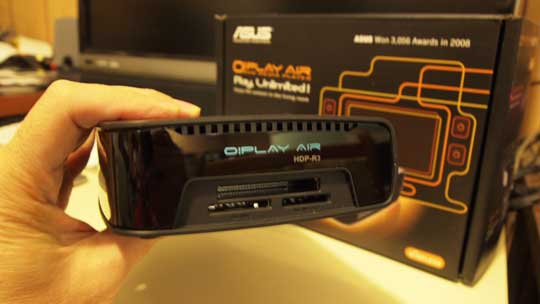 The card reader is really convenient to have.  With support for CF, SD+MMC, and MS+MS Duo you can plug in any of those cards from your digital still and/or video camera to view your pictures or videos in an instant.  Even though its specs say that it supports SD cards, it does indeed support SDHC cards.
My only real complaint is basically that the O!Play Air does not have a way to make a playlist of media (video, photos, AND music) so that you can just play all the media in the playlist.  Right now, it will only play 1 type of media in a given directory.  So if for example, you want to play a list of videos AND photos AND music in the background for a party or get-together, you are out of luck.  It will only play either all the videos OR all the photos OR all the music in a specified directory.  But since most media players out there right now doesn't have that feature, it's not a make or break function that would keep me away from the O!Play Air.  That said, it also would be nice to be able to access online content sites like Youtube, but I usually do that on my computer anyway so it's just a minor complaint for me anyway.  This is a feature the WDTV Live has over the O!Play Air.  Like I said, would be nice if the O!Play Air had it though.
All in all, Asus' O!Play Air media player is an awesome little machine that I've already started recommending to people looking for a solution to play all the media files they've been collecting.  Especially if you're a Mac user wanting compatibility with your Mac-formatted hard drives.  Plug in an e-SATA drive and you will have blinding speeds to play larger HD files.  At roughly $150 Cdn (you can find it cheaper if you look online) and with spectacular WiFi connectivity built-in, you really get a lot for the price.
For more information about the O!Play Air, check out Asus' website at www.asus.com/ProductGroup2.aspx?PG_ID=deBXUzMkKnQuGLGK.
I just want to take the time to thank Tony Banh and his staff over at INFONEC COMPUTERS in Mississauga.  They were very cool in letting me test out this unit fully before buying it.  These guys have really good prices on hardware like the Asus O!Play Air.  Their website is www.infonec.com.
UPDATE:    Things will get interesting over the next few months.  At CES this year, as I was writing this review, D-Link announced the upcoming Boxee Box set top box which will provide all the functionality of media players like the O!Play Air plus the ability to stream online media from sites like Youtube and Hulu through the Boxee software.  I'll definitely be keeping my eyes peeled on this one.