Acer Aspire Revo 3700 review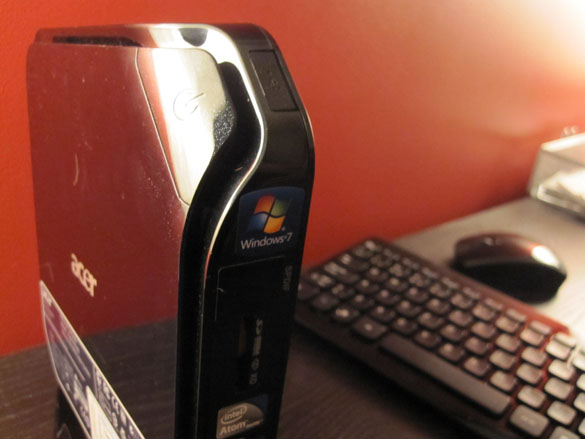 One of the recent computers to cross the desks here at RGB Filter Acer's latest iteration of the Revo nettop line, the AR3700. Powered by the second generation dual core Atom processor and Nvidia's ION 2 graphics chip, the low cost machine is a computer looking for a niche to fill. With Window 7 Home Premium, it's certainly capable of handling light processing duties such as web surfing, email and document creation, and at about $350, including keyboard and mouse, it makes for a decent machine for someone looking for a secondary machine. That being said, most users who do need a desktop would be better served by a more powerful machine, and those looking for a second machine, especially if space is an issue, are probably looking at a laptop. So where does the Revo fit in?
The Hardware
The 3700 continues with Acer's unique parallelogram form factor, though this time around they've ditched the white trim and accessories, opting for an all black look. The simpler colour scheme is a definite improvement. The Revo 3700 is downright tiny when compared to even most other nettop computers, let alone a full-fledged desktop. When mounted to its upright stand, the Revo is barely larger than the Nintendo Wii. Besides the stand, it ships with a VESA mount which allows it to be secured on the back of any TV or monitor that supports the standard. The VESA mount is a great idea if you're hooking it up to a monitor, but a little impractical if plugging it into a larger TV, as it makes accessibility to the USB ports and SD card reader.
The Revo includes a wireless keyboard and mouse. Neither is going to win any usability awards if you plan on using this as a daily computer. Of course, if you're planning on using it as a media based PC, the keyboard is small enough that it's easy to hide in most home setups, since you probably wont be using it all that much.
Performance
As mentioned above, there's not much to expect from the Atom/ION combination when it comes to raw horsepower. It's certainly not a gaming machine, but when it comes to everyday usage scenarios, it's enough to get you by. Email, websurfing and document creation are no problems on the Revo. Surprisingly, the same thing applies to photo and video tweaking. High end media manipulation strains the capabilities of the Revo, but if you're just making adjustments to your photos and video using the Windows Live Essentials tools, you'll be able to get the job done quickly enough.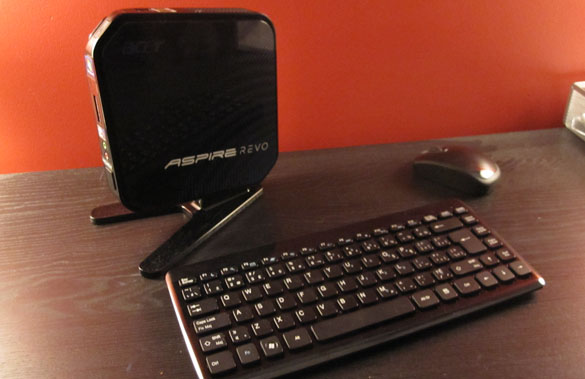 Media PC usage
The past few months have seen a real push for 'over the top' devices to link to your TV for accessing online video, whether it's YouTube, Netflix or anything in between. There are a number of options out there, from the Asus O!Play Air and Boxee Box to Apple TV, each with their own set of pluses and minuses.  In the US, Google has entered the fray with their Android based Google TV on devices made by Sony and Logitech. There's also the increasing online support from the PS3 and Xbox 360, all vying to be your TV companion.
The thing is, Microsoft has had the arguably better solution for years now, with Windows Media Center, which is now included as a part of Windows 7 Home Premium. With the unprecedented codec and online content support that comes with Microsoft's OS, a low cost nettop like the Revo makes for a superior alternative to all the other options out there. The Atom/ION is pretty energy efficient, and OS is capable of acting as a DVR if you so choose, with additional hardware required of course.
With just a minimal codec install, the Revo was easily capable of handling high bitrate 1080p video without a hitch. Although the earlier generation Atom/ION machines perform well, there can be some minor lag with the Windows Media Center interface. On the Revo 3700, navigation of the guides was certainly snappier than my personal ASRock ION 330, which has first generation Atom and ION hardware. With an always-on machine, you can also share your media library anywhere in the world you have an internet connection, meaning you don't need to load your laptop with media.
Microsoft may be making a push for the Xbox as a media solution but they would be well-served by taking a page from Google's page. Forming specific partnerships with hardware makers to come up with a minimal spec to promote Windows Media Center as a viable alternative would go a long way in making thes machines more understandable to the average consumer.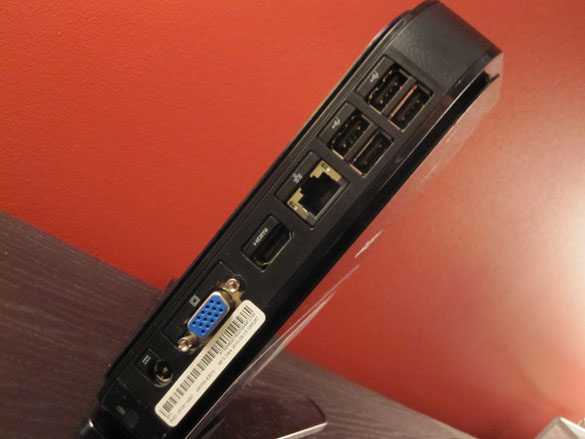 In the end
Nettop machines are niche by nature, but they fill that niche well enough. Like all computer technology, the latest Revo is faster and cheaper than the earlier generation. It will definitely work as a small secondary computer, though its real strength is as a living room PC aimed at media consumption. Whether your source is online like Netflix or iTunes rentals, or locally stored content, the Revo will handle it. With the flexibility of a PC over a cheaper dedicated player, you're much more future proof, as I can't think of any combination of 3 dedicated devices that come close to the functionality of the Revo. Expand that with an external tuner, and you're getting full fledged DVR functionality on top of that.
If you're considering a living room media device, the Revo should be near the top of the list.
A digression
Of course, with CES 2011 about to kick off, there are rumours that Microsoft will actually be announcing a settop box based on the Embedded version of Windows 7 aimed at consumers.  Some may say that Microsoft is 'late to the game', but this isn't entirely true.  After having had a chance to use a number of dedicated boxes and comparing them to PCs with Windows Media Center, nothing comes close to the living room PC in providing a comprehensive experience.  We'll have to wait and see what it means for media-centric computers like the Revo.