Boxee Media Center Beta arrives Dec 7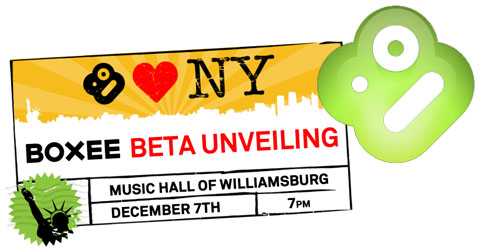 Boxee, the social media connected media center, is having a beta reveal party on December 7, 2009.  The software has been in alpha for the past year or so, and brings a wealth of online content to the living room interface, whether you're running Windows, Linux, Mac or Apple TV.  From the annoucement:
At the event we will demo the new Beta, launch new applications from partners and start a 4-weeks early-access for users to test the Beta before we release it to the public at CES on Jan 7th.

The Boxee Beta will look, feel and behave differently from the Alpha. It takes into account many of the requests and feedback we received from users in the past year.

The Beta will feature:

new user interface

improved navigation

search TV Shows and Movies

a user controlled Queue
shortcuts
I've been using the Alpha version of Boxee (Windows) for the better part of a year now, and can't recommend it highly enough.  In fact, just last night I managed to get Boxee to launch from Windows Media Center, effortlessly switching between the two with a universal remote.  Although Boxee supports a wide range of media formats, the real strength lies in it's access to tons of online content via a 10 foot interface, including everything from Apple trailers to YouTube, and everything in between.  Adding your own podcast feeds is as easy as adding the URL, and you never have to worry about media aggregation again.