Timelapse Video on effects of aging reveals something unexpected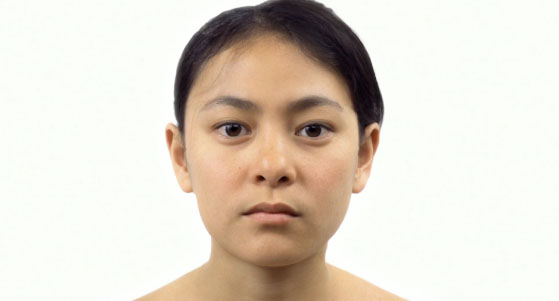 A video project called "Danielle", released by filmmaker Anthony Cerniello attempts to portray the effects of aging on the face, and does so to good effect, but it also reveals something I personally found more interesting.  I'd recommend watching the video before reading the rest of this article, as there are some spoilers ahead.
Danielle from Anthony Cerniello on Vimeo.
First, a little background.  Last year, Cerniello went to his friend Danielle's family reunion, and took photos of many of her extended family members.  From there, he selected the photos of members who had the most similar bone structure, and after some post production work, using a combination of After Effects, 3D Studio Max and Nuke, created the video above.
When I first encountered the video, I wasn't aware of how it was created until reading the rest of the article after viewing. While I found it an interesting exercise in its own right, during the process there were a number of points where my brain was subconsciously picking up on the subtle shifts in bone structure.  From my perception, there were at least a couple of gender shifts in there as well.
Whichever way you view the video, it's a fascinating exercise.  I can't help but think that it would interesting to see a companion video that actually deconstructs the points where people were blended.
Source: This Is Colossal
VIA: The Verge