World War Z trailer launches, unfortunately
After moving back the release of World War Z from December to the summer of 2013, it's not surprising that the trailer is getting a lot of buzz.  Too bad that before the end of the first minute of the trailer, I already didn't give a crap.
The trailer opens with Brad Pitt and his family stuck in NYC gridlock.  Every lane is packed with cars, and Brad Pitt gets out to see what's going on.  There's an explosion far up ahead… so far so good.  Something ominous, and unexplained fireworks in downtown NYC always creates filmic tension.
A motorcycle cop comes riding down between the packed lanes of cars, to tell Pitt to get in his car, when he's suddenly hit from behind by a garbage truck moving at what appears to be about60 Kmh.
That's when I tuned out.
Why is that?
They've already shown the street behind Pitt's car, multiple times in that first minute, and all lanes are completely blocked… impeding any fast moving garbage truck.
They've also shown that the street ends in a T section, about 7 car lengths back from the Pitt family car.
In fact, RIGHT BEFORE the cop gets hit (about 2 seconds in movie time), they actually have a shot of the street behind Pitt as he gets in his car.  All lanes are full, and there is no garbage truck in sight, even though the viewer can see to the end of the block.
For this to work, we have to believe, in the course of about two seconds, a whole lane of cars disappears, a garbage truck rounds the corner, and manages to pick up speed to hit about 70 kmh.  This isn't the kind of nonsense that it takes repeated viewing to "unearth".  It's right up there on the screen, and even IF the viewer doesn't know right away why the scene plays as fake, it still comes across that way.
All this before we even see a single zombie.  When we DO get to see the zombies, let's just say that I'd rather fire up Left 4 Dead than go to the theatre to see WWZ.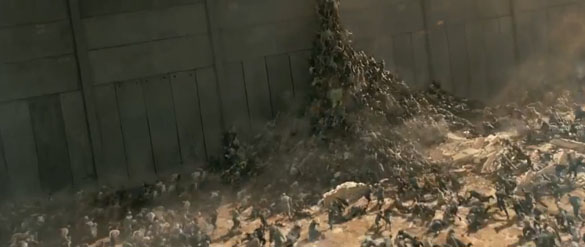 It's not as if I wanted this trailer to be bad.  In fact, everyone here at RGB Filter loves a good zombie story, and we're all fans of Max Brook's World War Z, having interviewed him a couple of years ago at Fan Expo.  It's too bad the film makers didn't see what Brooks had to say regarding the debate between slow and fast zombies