HP TouchPad tablet coming to Canada on July 15th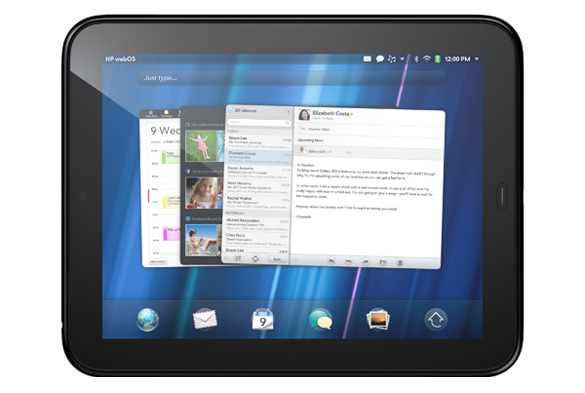 While the iPad and its successor, the iPad 2, are still the gold-standard for tablets, 2011 has already seen the release of a number of challengers for its throne. Both the recently released Motorola XOOM and RIM Playbook have some features that are better than the iPad, but neither of them has managed to recreate the "magic" that Apple infuses the iPad with. While most of the tablets still to come this year are going to Android Honeycomb based – Samsung, Toshiba, Dell, HTC, Lenovo, LG all have new models out now, or later this summer – there is one tablet that stands out from the crowd and, in my opinion, stands the best chance of usurping the iPad. The HP TouchPad, which runs webOS.
(As a side, you may wonder why I care so much about another product beating the iPad. Well, any tablet that is better would have to be absolutely amazing – and who doesn't like amazing tech?)
I am sure you are familiar with HP, since they are the world's largest PC manufacturer, and you may have heard that they are making a tablet. What you may not have heard of is the OS running the TouchPad, webOS. This OS was originally created by Palm, widely considered the company that invented the modern smartphone, and it was widely-acclaimed when it was released running on the Palm Pre. While the OS was great, and Palm was being steered by former Apple executive Jon Rubinstein (creator of the iPod), the Pre-phone hardware was lacklustre. As a result sales suffered and Palm's value dropped like a stone, until HP threw them a lifeline in 2010 and bought them. HP had recognized that webOS was one of, if not the best, mobile OS's on the market, and with their financial backing they could grow webOS into a serious contender in the mobile space.
In February HP took the wraps of the next generation of webOS devices, the Veer and Pre 3 phones, and the 10 inch TouchPad tablet. While the phones will run webOS 2.2, the tablet will be running the all-new version of webOS, 3.0. It is a combination of the new OS and some unique hardware tricks that make the TouchPad stand out for me, and will probably also make it the first tablet I buy.
Finally last week HP announced the release date and pricing: The TouchPad will be available in the US on July 1st, and in Canada on July 15th. The Canadian pricing will be $519 for 16GB the Wi-Fi model and $619 for the 32GB version of the same (a slight disappointment, since many other devices are priced on par with the US now). There are also supposed to be 3G models coming to unspecified carriers later in the year.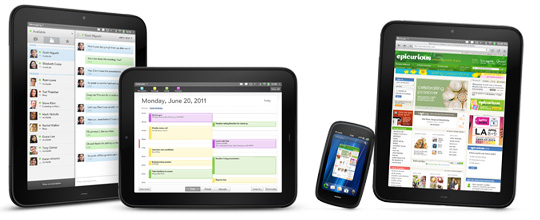 Hardware overview
The TouchPad has a 9.7" 1024×768 IPS screen, just like the iPad. While a lot of other tablets are coming out with higher resolution 16:9 screens, going with the exact same screen specifications as the iPad makes a lot of sense to me – since content creators can easily port over their apps to the TouchPad without having to worry about adjusting the screen layout. The TouchPad has front facing 1.3MP camera which will allow you to make live video calls, but no near facing camera – which it not a big deal in my opinion – who actually takes pictures with their tablet anyways!
It has a Qualcomm APQ8060 1.2GHz dual-core processor, one of the most powerful mobile CPU's on the market, which will make things fly, at it will be available as either a 16GB or 32GB model. It has 1GB of RAM, and like the iPad there will be both Wi-Fi only and 3G enabled models, though it is not clear which versions will be available in Canada.
A 6300mAh battery should give the TouchPad excellent battery life, though no official stats have been release yet, and it is 13.7mm thick, matching the first iPad, but not the svelte dimensions of the iPad 2. Weighing in at 740 grams, the same as the XOOM, it is a bit heavy, but still an extremely portable device.
Unique to the TouchPad are a couple of hardware innovations that its competitors don't offer. The Touchstone docking charges the TouchPad inductively – there is nothing to plug in when it stands on your desk while you look through your calendar. It also uses Touchstone technology to allow the tablet to wirelessly connect with a Pre smartphone. You can also wirelessly print to compatible HP networked printers.

Software overview
What makes the TouchPad so special is webOS. When it was originally announced in January 2009, and released in June 2009 on the Palm Pre, webOS was in many ways ahead of it's time. Android was still in it's infancy, at version 1.5, powerful but not very user friendly, and iPhone's were still running iPhone OS 2, which lacked multi-tasking, and even cut & paste! In contrast webOS was extremely easy to use, with a card based interface (which can now be found on the QNX OS on the Playbook) to manage true multi-tasking, and it featured many other unique innovations, such as Synergy – one of the first mobile OS's to integrate all your contacts & calendars into one unified view.
The first tablet version of webOS is 3.0, found on the TouchPad, and it brings all the great innovations of the phone OS to a larger screen – the same card based multi-tasking, universal search, and Synergy can be found, along with new features like an unobtrusive notification system, and Touchstone sharing between the tablet and webOS phones. You can look up a recipe on web on the TouchPad, touch your Pre to the tablet to transfer the site to the phone, and take it with you. The web-kit based browser will support full Flash & HTML 5 for a desktop like browsing experience.
Lastly, it doesn't matter how good your OS is, as Honeycomb Android tablet early adopters can probably attest to, if you don't have a great selection of tablet OS optimized apps available your tablet is dead-in-the water. Luckily the TouchPad is backed by HP's deep pockets, so they will be able to get big developers on-board to create some great apps – one arguably sure sign of success is that a webOS 3.0 tablet version of Angry Birds should be available at launch!
The HP TouchPad will be available to pre-order in Canada on June 19th at Future Shop, Best Buy, Staples, Costco, London Drugs and the Source.
Check out this new video from HP about the TouchPad:
You can check out the rest of the TouchPad videos on HP's YouTube channel here.
Full Tech Specs:
Color: Black
Operating system: HP webOS
Display: 9.7-inch XGA capacitive, multitouch screen with a vibrant 18-bit color, 1024×768 resolution display
Email support: Microsoft Exchange email with Microsoft Direct Push Technology & POP3/IMAP (Yahoo! Mail, Gmail, AOL, Hotmail, etc.)
Messaging: Integrated IM and SMS
GPS: A-GPS (3G models only)
Digital camera: Front-facing 1.3-megapixel webcam for live video calling
Sensors: Light sensor, accelerometer, compass (magnetometer), and gyroscope
Media formats supported: Audio formats: DRM-free MP3, AAC, AAC+, eAAC+, AMR, QCELP, WAV; Video formats: MPEG-4, H.263, H.264
Wireless connectivity: Wi-Fi 802.11b/g/n; Bluetooth wireless technology 2.1 + EDR with A2DP stereo Bluetooth support
Memory: 16GB or 32GB internal storage
Battery: 6300 mAh (typical) battery
Connections: Charger/microUSB, 3.5mm Headphone jack
Speakers: Internal stereo speakers and Beats Audio
HP Touchstone for TouchPad Compatible
Processor: Qualcomm Snapdragon dual-CPU APQ8060 1.2GHz
Dimensions: Width: 240mm (9.45 inches)
Height: 190mm (7.48 inches)
Thickness: 13.7mm (0.54 inches)
Weight Approximately: 740 grams (1.6 pounds)
Comparison chart with other tablets:
(chart from crackberry.com)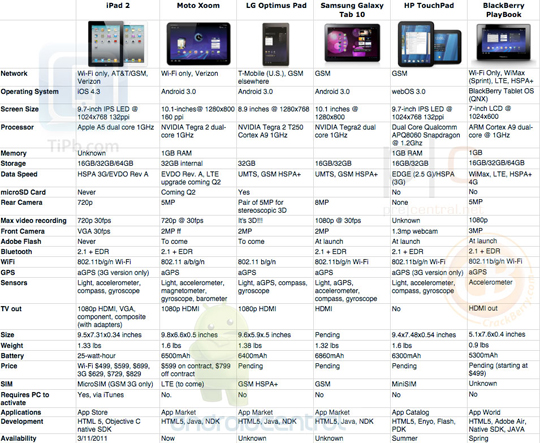 Check out a gallery with more picstures of the TouchPad below:
This post by Alex Davies originally appeared on the Future Shop tech blog here.