Motorola XOOM hands-on video, now available at Telus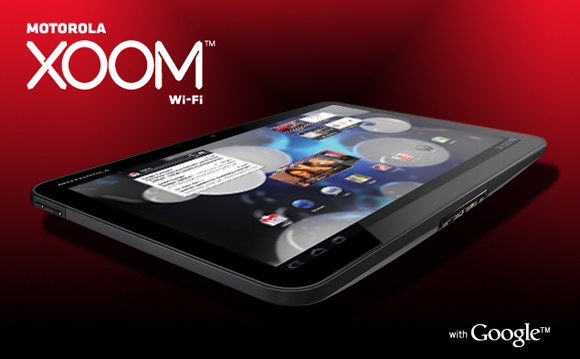 On April 7th Motorola announced that the XOOM Android 3.0 tablet was available in Canada. Future Shop had jumped the gun a bit and started selling them the day before so instead of waiting for a review unit to be sent, I rushed out to buy it right away.  I had hoped that I would be able to get some hands-on videos posted soon after. Sadly, due to Real Life™ this was not to be.
A few weeks later the videos are ready, and this post coincides nicely with the release of the XOOM on Telus. While first announced to be coming to Telus (at least in Canada), strangely they waited a few weeks to start selling it – and on the very same day as the Playbook! It would be interesting to be a fly-on-the-wall at some Telus stores today to see which Tablet people were asking about the most. I suspect initially people will ask about the Playbook, but I would think they would walk out with the XOOM. Despite its shortcomings in my opinion it is still the better choice.
The Motorola XOOM is a 10.1" Android tablet, and was the first model to run Google's tablet specific version of their Mobile OS, Android 3.0, AKA Honeycomb. The initial version released in the US was a Verizon CDMA cellular model, and despite its many positives was deemed a little expensive, and incomplete. The first version to come to Canada is the Wi-Fi only model, which matches the equivalent 32GB Wi-Fi iPad 2, for $599.99.
Spec-for-spec the XOOM is comparable to the iPad 2, and better in some areas, with a higher resolution screen and arguably a better Nvidia Tegra 2 CPU. However it is the Honeycomb OS that is holding it back – but this is no fault of Motorola, or Google. Honeycomb is a great OS, fast and super smooth, and more intuitive to me than iOS – but just like when the iPad first came out there is a serious lack of tablet optimized applications in theAndroid market at the moment. Honeycomb is a brand new ecosystem, and the XOOM is the first piece of hardware running it, so this barren appscape is to be expected.  Still, it will be frustrating for early adopters. Hopefully this will change when other Honeycomb tablets are released soon – models from Acer, Asus, LG and Samsung are all coming out over the next few months.
In my videos below I go over the impressive hardware, that features the usual impressive Motorola build quality, and look at some Honeycomb apps.
Check back for a full verdict once I have spent some more time with the XOOM, since I think you can only fairly judge a brand-new platform after a long term test.
The Motorola XOOM is available now at Future Shop, Best Buy & Telus for $599.99.
For more information about how to buy the XOOM from Telus visit their XOOM page here.
Check out our hands-on videos, a gallery of pictures, and the official Motorola press release below:
Unboxing and hardware overview:
Software overview:
Gallery:
Highly Anticipated Motorola XOOM™ Wi-Fi Now Available in Canada
First device running Android 3.0™ (Honeycomb) now available at Future Shop and Best Buy
TORONTO – April 7, 2011 – Motorola Mobility Canada today announced the Motorola XOOM™ Wi-Fi is now available for purchase online from Best Buy and Future Shop, and will be available in-stores across the country beginning April 8. Providing higher resolution and more screen size in a smaller package than the leading competitor, the first device in Canada to run on Android™3.0 (Honeycomb) platform, Motorola XOOM Wi-Fi features a 1GHz-dual core processor and 1 GB of RAM, front-facing and rear-facing cameras, true multi-tasking functionality and the latest GoogleTM Mobile services on a 10.1 inch widescreen HD display.
Called the "the most potentially disruptive technology" by CNET at the 2011 Consumer Electronics Show, Motorola XOOM Wi-Fi showcases the innovations of the Honeycomb user experience – including widgets, true multi-tasking, browsing, notifications and customization – on a 10.1-inch widescreen HD display, enabling video content that's richer and clearer than ever before. Support for HDMI enables viewing of videos and movies on larger screens, such as HD televisions. A 5 MP rear-facing camera captures HD video and 2 MP front-facing camera enables clear video chats using Google Talk™.
The latest Google Mobile services include Google Maps 5.0™ with 3D interaction, GmailTM, and access to thousands of apps from Android Market™. Motorola XOOM Wi-Fi also supports a Beta of Adobe® Flash® Player 10.2 downloadable from Android Market, enabling the delivery of Flash based web content including videos, casual games and rich Internet applications.
Motorola XOOM Wi-Fi also features a built-in gyroscope, barometer, e-compass, accelerometer and adaptive lighting; Motorola XOOM is leading the tablet revolution. Motorola XOOM supports up to 10 hours of video playback and charges in nearly half the time of competitive tablets on the market.
Motorola Smart Accessories
Motorola XOOM features an ecosystem of intelligent accessories to enhance the tablet experience:
A Standard Dock for watching video or listening to music through external speakers as the device charges. Available now for $49.95.
A Speaker HD Dock for sending HD content directly to a TV or clearly listening to music through two built-in speakers – eliminating the need to attach external speakers. Available now for $129.95.
A custom keyboard with Bluetooth® wireless technology and special AndroidTM shortcut keys. Available now for $69.95.
Motorola XOOM Wi-Fi is now available for $599.99 at Future Shop and Best Buy online, and will be available in-store beginning April 8. Visit Motorola.ca to learn more.