LG Optimus Pad impresses in hands on video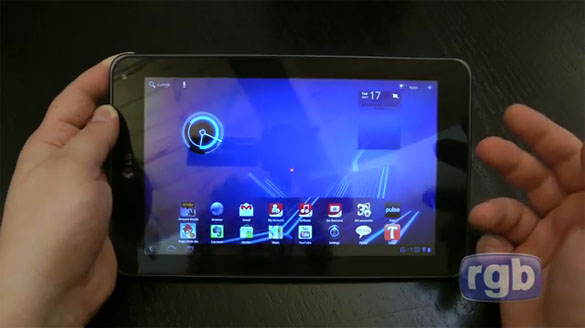 The LG Optimus Pad is the latest in a long line up of Android 3.0 tablets hitting store shelves these days (in the US it's known as the G-Slate on T-Mobile), but LG has made an effort to differentiate itself from the pack, by offering a slightly different form factor.  Currently there's no WiFi only model available in Canada, but I hope LG rectifies that soon, as it does offer a unique experience.  You may be asking "But it's Android's Honeycomb, it's all the same, right?".  You'd be right, but not all tablets are built equal.
My initial impression is that for a largely consumption based handheld device, this may be the perfect balance between screen size and holdability.  Is holdability a word?  Normally not outside of certain programming circles, but you know what I mean.  Like baby bear's bed, it's not too big and not to small.  The 8.9 inch screen size allows its 1280 x 768 screen to display rich media content in the best all around aspect ratio, while portrait mode will still allow many people to use the keyboard with their thumbs.  Smaller hands may have to lift a bit to get to the keys in the middle, but it's a fair trade off compared to 7 inch screens.  The screen is big enough for a more realistic 'full web' experience than a 7 inch, while being noticably more comfortable to hold than the more common 10.1 inch form factor tablets out there now.
To best illustrate the size, the LG Optimus Pad is almost the exact same height as the iPad in portrait mode, which means viewing 16:9 media would be the same size as they share an almost identical screen width.  If, however, you plan on doing a lot of text reading in portrait mode, the Optimus Pad is very well suited because the 16:9 aspect ratio is very text (and comic) friendly.  The narrowness also provides better weight distribution for one handed reading.. 
The overall design of the tablet is very clean and muted in tone, opting for a business friendly dark grey colour, and not a lot of flourish, for the most part.  The one item that stands out is the dual cameras around back.  That's becaus LG has loaded the Optimus Pad with a 3D recording, which is capable of shooting 3D video at 720p or 1080p in 2D mode.  I'm not sure how often people will make use of such a novelty, but it's an interesting feature.  While the tablet isn't a 3D display, it can output 3D video via HDMI.
We had a chance to spend some quality time with the LG Optimus Pad, and you can catch the video below…
Rogers now has the LG Optimus Pad in stock,  priced at $699.99 contract free or $449.99 on a 3 year plan.