Best Buy Canada's Free Phone Fridays – more killer (on contract) deals including the Xperia PLAY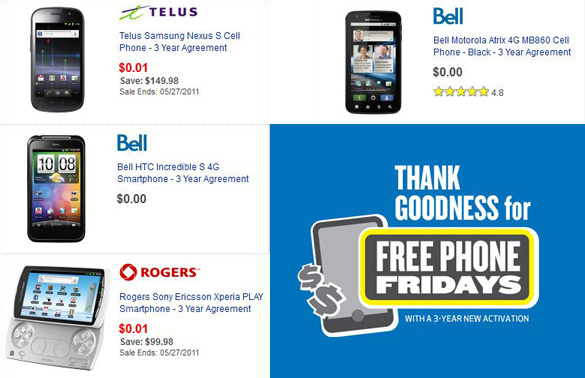 Best Buy Canada's Free Phone Fridays returns with some killer deals – if you sign a new 3yr contact. This week's deals include the Nexus S, ATRIX & Xperia PLAY for $0. With the announcement that the mobile version Minecraft is coming exclusively (at first) to the PLAY perhaps it's time to consider getting a 2nd phone? Also if you are on the fence about the PLAY we should have some videos posted later today of it in action – it is, IMO, hands-down the best mobile gaming experience you can buy today, hand-held or phone!
The phones included (and carriers) are:
Sony Ericsson Xperia PLAY (Rogers)
HTC Incredible S (Bell/SaskTel)
Samsung Nexus S (Telus/Fido)
BlackBerry Torch (Virgin)
Motorola ATRIX (Bell)
INQ chat (Koodo)
More information can be found on the Best Buy Mobile Free Phone Fridays site here.