Toronto Underground Cinema marks first anniversary with free screening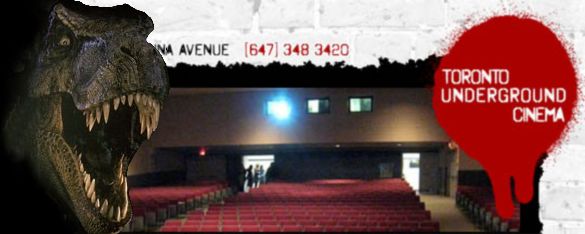 It was a year ago that the Toronto Underground Cinema first opened its doors to the public with free showings of Clue and Big Trouble in Little China. Since then, the 700 seat theatre has played host to a number of events, including Gamercamp Lv2, and most recently the inaugural Star Wars Day Toronto. To celebrate its first anniversary, the Toronto Underground Cinema is opening its doors for two free movies tonight.
First up at 7:00 pm is Clue, which they also screening for their free screening last year. To follow it up they're showing Jurassic Park at 9:00 pm.  Steven Spielberg's adaptation of the Michael Crichton book may have been a little watered down, but there's no denying that it was a watershed moment for CG in films. Sure, Jurassic Park is going to cut into Game of Thrones, but that's what DVRs were invented for.
PRESS RELEASE:
The indiest of Toronto indie movie theatres has survived its first year in business. And to celebrate, we're holding a party. On Sunday, May 15th, the Toronto Underground Cinema will be showing two films very near and dear to our hearts — and, as a gift back to the city, both will be free to attend.
7:00 — Clue (1985): Based on the Hasbro board game (oh yes) and featuring Christopher Lloyd as Professor Plum, Clue was the first movie we ever showed at the theatre, on opening night in May of last year. But the movie was originally released to theatres with three different endings, so, for all we know, there may be a different killer this time.
9:00 — Jurassic Park (1993): The Underground's three managers — Alex Woodside, Charlie Lawton, and Nigel Agnew — met when they collaborated on a shadow cast of this movie as part of the 2009 Toronto Fringe theatre festival. (Agnew played Malcolm, Lawton played Nedry, and Woodside directed and starred as the T-Rex.) But quite beyond that, the movie is awesome: IT HAS DINOSAURS.
Admission to both films is free, on a first-come first-served basis. Some additional events we have coming up are listed below.
We're proud to be a part of Toronto's independent theatre revival, alongside such institutions as the Fox, Royal, Revue, and Humber, and we look forward to the years of cinematic memories ahead.
http://torontoundergroundcinema.com/
http://www.facebook.com/TOUnderground
http://twitter.com/TO_Underground
Toronto Underground Cinema • 186 Spadina Ave., Rear • 647-992-4335