Win a Telus Samsung Galaxy S Fascinate 4G, launches tommorow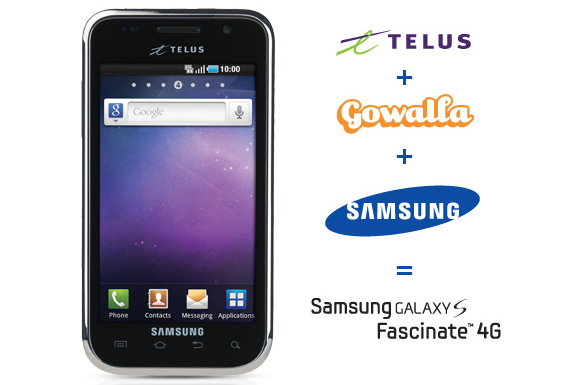 While there is some controversy to the use of 4G as a label for current 3.5g networks, the Telus Samsung Galaxy S Fascinate 4G (what a mouthful!) when it launches tomorrow will certainly be the 'fastest' phone in Canada. With 21 Mbps HSPA+ download speeds, this minor revision to the super popular Galaxy S series of phones sports the same 4″ Super-AMOLED screen, 1Ghz processor, 5MP camera, and still runs only Android 2.2. This is a little disappointing, since Gingerbread (Android 2.3) has been available for quite some time now. Samsung has however promised an upgrade to 2.3 later this year. The only addition that that 4G has over the original Telus Galaxy S Fascinate, along with the faster download speeds, is a front-facing camera that can be used with the pre-loaded Qik video-chat application.
To celebrate the launch Samsung is giving away 50 of these phones across Canada! The contest takes place at five different Telus stores, in Toronto, Mississauga, Vancouver, Montreal and Calgary. You need to show up nice and early tomorrow morning, and the first 10 people to check in with Gowalla at one of the participating stores win a phone! Pretty easy, right?
The participating stores are:
Toronto Eaton Centre
Square One in Mississauga
Chinook Centre (lower level) in Calgary
Pacific Centre (store) in Vancouver
Fairview Point Claire in Montreal
For more info about the contest you can check out the Samsung Mobile Canada Facebook page here.
The Samsung Galaxy S Fascinate 4G will be available from Telus tomorrow for $529.99 outright, $99 on a 3yr term. (source: mobilesyrup.com)
Samsung also released a Galaxy S Fascinate 4G promo video on YouTube, showing why you need 4G. With Canadian data-caps being what they are perhaps we don't need really 4G speeds yet- hopefully new 4G plans with more data will come out soon. Check out the video below:
Tags: 4G, Android, Android 2.2, Android 2.3, contest, data-caps, Fascinate, Fascinate 4G, Galaxy S, Gingerbread, Gowalla, launch, Qik, Samsung, superphone, Telus, Toronto