The Short Story is Not Dead!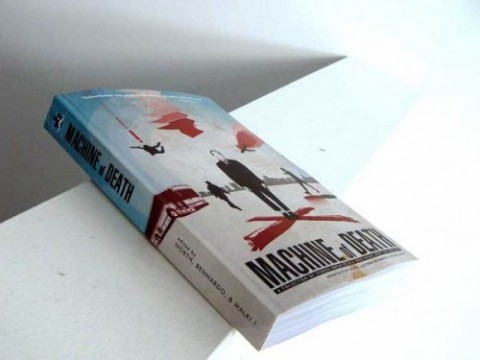 Book Publishing D.I.Y.
Yes, these guys want you to buy their book…today. A flash mob bestseller…can it be done? Taking their cues from the indie comic publishers, a brave band of editors, writers and illustrators are launching a short story anthology, "Machine of Death", to make a point to the big publishing guys. Read any good books lately? If not, then check out the MoD site for an entertaining rant about why that might be.
Originally inspired by an episode of Ryan North's Dinosaur Comics, MoD is edited by North, David Malki of Wondermark fame and Matthew Bennardo.  Both Ryan North and David Malki were also at TCAF this year, and you can check out our Ryan North and David Malki interviews, but not until you've ordered the book!
From The MoD website:
We only need to sell it to you.

On October 26, we want to send a message that a little project dragged kicking and screaming from "crazy idea" past "it'll never work" all the way to "By God, they actually did it" can make a big splash. We're internet people; you are too. We want to prove to all the people who said "this will never sell" that internet people make things happen.

Did you know that on any given day, an Amazon.com bestseller only sells a few hundred copies? Sure, they sell a few hundred copies a day for weeks and months on end, but what we've learned is that it only takes a few hundred sales on a single day to become an Amazon.com bestseller.

We want Machine of Death to become a Number One bestseller for exactly one day — October 26.

Here is our book's listing on Amazon: machineofdeath.net/oct26/ — blog it, retweet it, add your affiliate link, post it on your bulletin board at work, shout it from the rooftops, tattoo it on your dog. (Note: the title may not have populated through all of Amazon's search databases yet. Use the direct link whenever you can, so people can find it.)