Telus and Bell also releasing the Torch on the 24th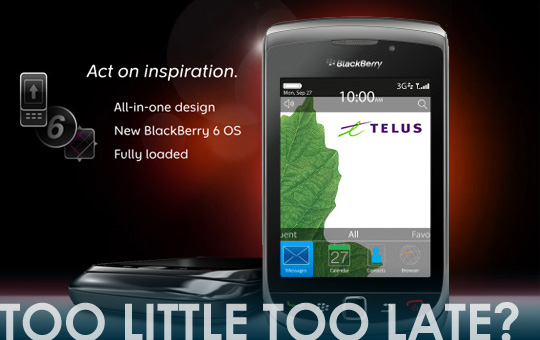 Telus and Bell have joined the Blackberry Torch party and also announced that they will be releasing the Blackberry 9800 Torch on September 24th. No official price has been announced by Telus, and Bell has said it will be $199 on a 3-year contract.  I think it's safe to predict the Telus price to be the same.
The 24th is a big day for Canadian RIM fans.  However, it remains to be seen if RIM and the carriers can generate the same level of excitement for the Torch as the iPhone 4, or even the Samsung Galaxy S. Considering the Torch's flame did not burn too bright when it launched on AT&T in the US last month we would have to say 'no'.
However, as they say, the proof is in the pudding, so we will hold our final judgment until we go hands-on with one.
For more info about the Torch on Telus you can visit their page here, and yuo can sign up for more info about the Torch on Bell here.
[UPDATE] Virginmobile has also tweeted that they will be launching the Torch on the 24th.
[Source Telus press release, and Bell Tweet]
TELUS to offer New BlackBerry Torch Smartphone on Canada's fastest mobile network in September

Combines New Touch Screen Experience with Easy-To-Use Keyboard First to Feature New BlackBerry 6 with Rich WebKit Browser
Toronto, ON – TELUS today announced it is targeting September 24th for the launch of the new BlackBerry® Torch™ 9800 smartphone on Canada's fastest mobile network*. Designed especially for socially connected consumers and packed with the tools business customers love, the new handset offers elegant styling with top-of-the-line features and functionality. It's the world's first smartphone to combine a BlackBerry® keyboard with a full touch screen experience and the first to feature the new BlackBerry® 6.0 operating system.
"Both business and consumer customers will get an incredible mobile experience from the new BlackBerry Torch smartphone," said Brent Johnston, vice-president of Mobility Solutions at TELUS. "TELUS is pleased to bring the BlackBerry Torch to Canadians, which will allow them to easily stay connected, entertained and informed wherever they are while running on our blazing fast 3G+ network."
The new BlackBerry Torch redefines what's exciting about BlackBerry smartphones by combining a large capacitive touch screen and optical trackpad with a 35-key full QWERTY backlit slide-out keyboard, designed to feel optimally balanced when opened for typing. It offers support for high-speed 3G (UMTS/HSDPA) networks around the world, includes the latest generation of Wi-Fi® (b/g/n) connectivity and built-in GPS for location-based applications and geo-tagging. Its 5 MP camera takes exceptional pictures with continuous auto focus, image stabilization, 11 scene modes and zoom, as well as video recording. It also comes with a combined 8 GB of media storage out-of-the-box, including a microSD/SDHD memory card slot that can bring the total storage memory to 36 GB for customers that want more.
The BlackBerry Torch is the first to launch with BlackBerry 6.0, a new operating system for BlackBerry smartphones. It features a redesigned interface, and a new and rich WebKit-based browser that renders HTML web pages (as well as HTML email) quickly and beautifully for a great browsing experience. The browser includes tabs for accessing multiple sites simultaneously, double-tap to zoom that can intelligently wrap text in a column while maintaining the placement of a page's key elements, and pinch to zoom.
BlackBerry 6 offers expanded messaging capabilities and RSS feeds, which provides integrated access to the popular BlackBerry® Messenger (BBM™) service as well as Facebook®, Twitter™, MySpace™ and various instant messaging applications. The enhanced multimedia experience includes a dedicated YouTube app, and BlackBerry Podcasts, allowing users to easily discover, acquire and enjoy audio and video podcasts from leading content providers. A universal search feature, accessible from the Home Screen, allows users to search for content on the smartphone, as well as extend the search to the Internet or to discover applications on BlackBerry App World™, which is included. TELUS is excited to be the first carrier in Canada to offer clients the ability to pay for their BlackBerry App World™ purchases on their mobile phone bill as well as through credit card payment. This ability will be available prior to the BlackBerry Torch launch.