Hand Eye Society Arcade at Fan Expo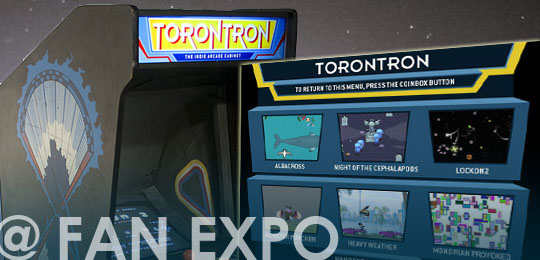 Good news gaming fans!  The Hand Eye Society Indie Arcade is going to be at Fan Expo this weekend.  The Torontron arcade cabinet is going to be there and loaded up for your enjoyment.  They'll be set up in Room 201 on the main floor, so make sure you drop by.
For more info, including details on the gaming party, read on…
FAN EXPO
Fri 4-9 | Sat 10am-7pm | Sun 11am-6pm
Meto Convention Center (or just head to Union station and follow that dude who's dressed like Naruto)
The Hand Eye Society Indie Arcade is making another appearance, this time at Fan Expo.  We're hidden away in room 201 on the ground floor and this time we're packing the mighty Torontron Arcade cabinet!  Also on display will be some fantastic games by HES members:
FAN EXPO GAMING PARTY
Saturday 9:00pm – 2:00am
Charlotte Room – 19 Charlotte
Saturday night Spooky Squid Games and ][ will be providing multiplayer games for the "Gamin' with the Girls – Fan Expo Gaming Party".  Stay late for musical sets by local chiptune artists and DJ's including HES member DJ Finish Him (aka Shaun Hatton).  It's worth staying late for a rare chance to play ]['s 'dancing sumo' game I Have Big Balls the way it was meant to be played… with live music creating a dynamically changing landscape to fight on!
OTHER EXIBITORS / EVENTS OF INTEREST:
HES member Benjamin Rivers will be selling comics at a yet to be disclosed location.
Veteran TOJammer Eric Kim will be selling comics at P43A.
TOJam 2010 newbie Heather Chan will be selling crafty things at A55.
HES member Ryan Creighton of Untold Entertainment will be on a panel on The State of the Local Video Game Industry at Sunday 12:30 pm room #205A.
HES member Shaun Hatton will be answering questions with the rest of the Electric Playground crew Sunday 5pm room #206C.
You might also want to check out the awesome folks from Decoder Ring Theatre at booth A132 they put on a mighty fine pulp radio drama podcast and you may recognize some voices from Spooky Squid Games' Night of the Cephalopods and Guerrilla Gardening.