Toronto Outdoor Summer Movie Nights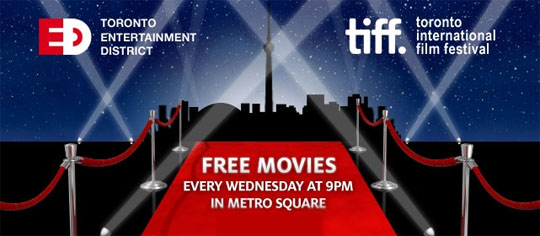 Tonight is the launch of 10 weeks of free movies in downtown Toronto.  The Outdoor Summer Movie night event is a partnership between the Toronto International Film Festival,  the CN Tower and the Toronto Entertainment District Business Improvement Area.  Sure, it's a mouthful of, but over the next couple of months, every Wednesday at 9pm you can go to Metro Square (map) and watch a pretty wide variety of films, from Casablanca to Pee Wee's Big Adventure, and special menus from many local restaurants.
The opening night events, featuring the 2007 film "Breakfast with Scot" also include a performance by the Toronto Symphony Orchestra Brass Trio and a CN Tower light show.
You can see the full schedule here.
Tags: Casablanca, CN Tower, Outdoor Summer Movie Night, Pee Wee's Big Adventure, TIFF