Toronto Zombie Walk: Special Director's Cut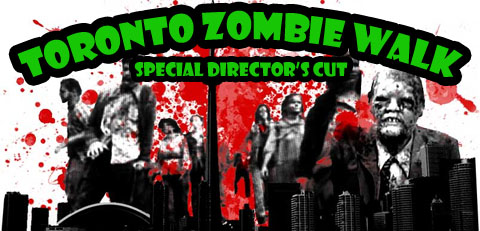 With so much going on around Fan Expo this year, I almost forgot to post about a special event coming up. Luckily I ran into Thea Munster at a Fan Expo concert (more on the ban coming soon) to remind me.
This year, besides the main Toronto Zombie Walk, there'll be a Special Director's Cut, bringing the dead out to play for an extra day…
On October 1st, 1968 George A. Romero, Director of Night of the Living Dead, made "Zombies" a horrific house hold name.

On September 12, 2009, join us for a special Zombie Walk, a "Special Director's Cut Edition", to mark the North American premiere of George A. Romero's Survival of the Dead in the Midnight Madness selection of the Toronto International Film Festival. Aside from paying a fitting tribute to George Romero on the event of his newest film, we will also be celebrating Romero's recent status as a bona fide Canadian citizen and Toronto resident!

Toronto has truly become the city of the living dead.

Date: September 12, 2009 – Meet Time: 3 pm  – Walk Starts: 3:30pm

Beginning: Alexandra Park (Bathurst/Dundas)
End: Dundas Square where George A. Romero will greet the Zombies. Mr. Romero will then speak, followed by an outdoor screening of Night of the Living Dead.
So be there with your latex and bloodied corn syrup on!  More details at the official site!