So, two fish decide to play Street Fighter II…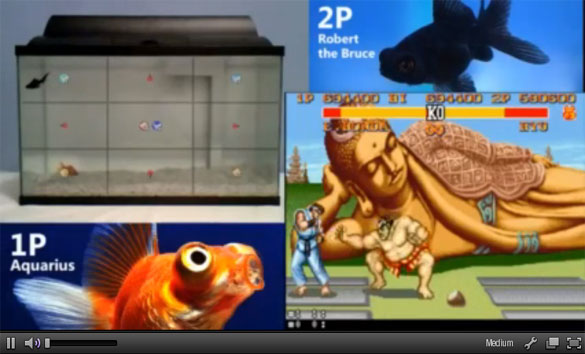 To be honest, two fish ARE playing Street Fighter II, but they're oblivious to the situation. They are, after all, fish.
Essentially, the tank face has been divided up into a 3 by 3 grid, each representing different game control. As Aquarius (P1) and Robert the Bruce (P2) swim around, they'll unwittingly activate the controls. No fish are harmed in the process. In fact, according to the Twitch page, they seem to be doing quite well.
You can watch the competition all day below, or go to the Twitch.tv page to get all the details, especially if the stream isn't working for you.
Watch live video from FishPlayStreetFighter on www.twitch.tv