SkyDrive updates for PC and Mac / Google Drive launches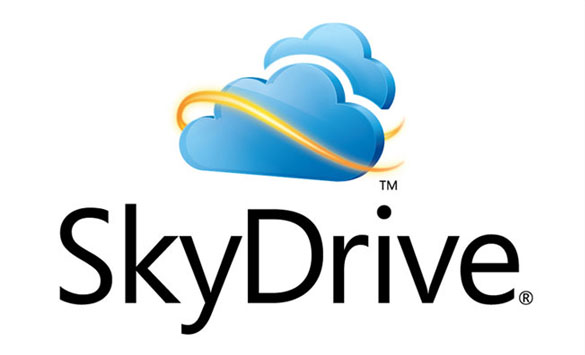 Microsoft's SkyDrive cloud storage has been around for a number of years now, providing users with up to 25 GB of free storage, with their Live ID login.  Yesterday, they updated the service by releasing an updated Skydrive application for both Windows (Vista, 7 and 8 ) and Mac OS X (Lion).
Once installed and you provide the proper login, the SkyDrive folder simply appears as another folder in Windows Explorer and the Mac Finder, much like other cloud solutions such as DropBox.  The maximum filesize has also recently climbed to 2GB while using the native app.  Official mobile apps are available for iOS and Windows Phone 7, while 3rd party apps are available for Android.
Another extremly handy feature of the SkyDrive application is remote fetching from other computers with SkyDrive installed.  For example, say you were working on a Photoshop file at home, and you didn't save it to the SkyDrive folder.  If your home machine is on, and has the SkyDrive application installed, you can simply log into your home computer from the SkyDrive web interface and download the file.
If you need more than what the free SkyDrive storage allows for, you can opt to pay for extra storage, and you can see the breakdown in the chart below.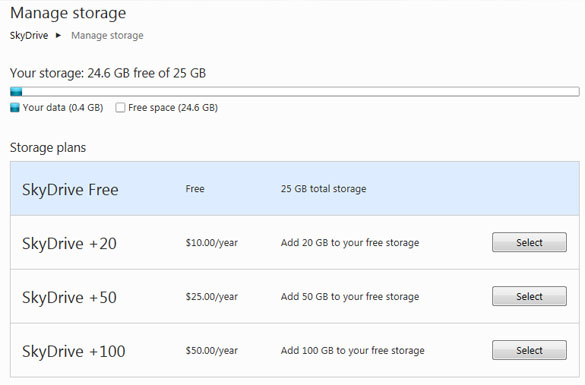 With every good bit of news, there has to be some bad though.  Microsoft is changing the 25GB free down to 7GB for new users.  If you're a current user you can keep your 25GB if you alread have 4GB stored on the service.  If you have less than 4GB, you can log in here, and claim the 25GB for free right here.  There's no word on how long this will be available, so you should get over there now.
In other cloud storge news, Google has launched its Google Drive, which functions similarly to SkyDrive, providing 5GB of free storage and Google Docs integration.  Users will have the option to upgrade to 25GB of space for $2.49 a month, 100GB for $4.99 a month, or 1TB for $49.99 a month, and upgrading to a paid account will expand your Gmail storage to 25GB.
Google Drive also includes cross-platform support for desktop and mobile (iOS and Android), though as of this writing, there's no word on a Windows Phone 7 app, and I'm not gonna hold my breath on that one.
As Google Drive is brand new, I haven't had a chance to try it out yet. In fact, it became official just before I hit "Publish" on this story. The pricing structure for both services is very similar, and it will be interesting to see how long time 3rd party cloud solutions like DropBox hold out.