Level Up Student Game Showcase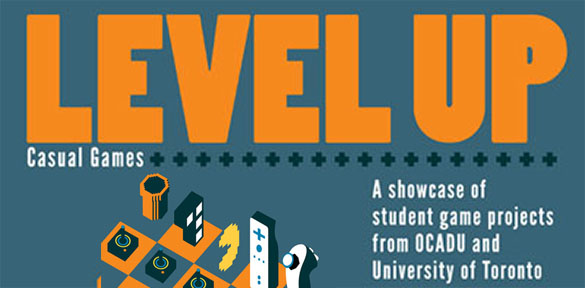 This coming Monday April 4th, OCADU's game design students, along with the University of Toronto's computer science crew will be showing off the results of their gaming collaboration at Level Up, at the TIFF Bell Lightbox. 
The theme this year was "Casual Games". The projects run the gamut of technology, from Unity 3D to XNA to Python (?!), with a variety of input devices from Xbox 360 controllers to Android smartphones to Kinect cameras, in both 2D and 3D flavours. Visually, the students were thrown a curveball midway through production to mimic the ever-changing client demands in the real world: the games would now have to conform to a Tim Burton-esque aesthetic to compliment the exhibit running at the Lightbox. (Quick! Desaturate by 60% and add some stripes!) [from The HandEye Society]
If the event is even half as fun as the Nuit Blanche gaming event held at the same venue, then it's worth marking it on your calendar now.
Level Up
Monday April 4th, 2011
5pm – 9pm
TIFF Bell Lightbox
350 King St. W
Learning Rooms A & B (3rd floor)