Unboxing Boxee Box – initial impressions
After what seemed like forever, Boxee Box by D-Link finally hit retail shelves on Wednesday, and being a big fan of the software, I made sure I was there to get one.  I didn't have the official RGB Filter HD camera on hand, so I fired up my point n shoot with 720p, to give you a look at it, and the much anticipated remote with QWERTY keyboard built into it.  I was going to call this one "A look at what's inside the Boxee Box box, when unboxed", but thought it was overkill…
Low priced media streamers are growing in popularity, and one of the caveats that many carry is "Don't forget to get an HDMI cable…"  This isn't true with Boxee Box, which bundles a 6ft run in the package.  It may be a small thing, but it's nice that they do so.  Don't let your big box electronics retailer try to sell you one.  You won't need it.
As for how it works, that's to be determined.  It automatically connected to the wired network, and adding network shares posed no problem, all via the familiar Boxee beta software interface.  Internet based content was a little different though.  The 'pure' internet sites, such as Revision 3 and TWiT all worked fine.  Online television was a bit more hit and miss.  Here in Canada, City TV and the CBC looked good, and had no problems.  Global owned properties also worked without a hitch, though their resolution was shamefully 8 bit looking.  As for most CTV channels (CTV, The Comedy Network), on first blush it was no go.  They were kind enough to show me the pre-roll advertising, but the actual content either showed black, or the first frame, with the audio playing fine.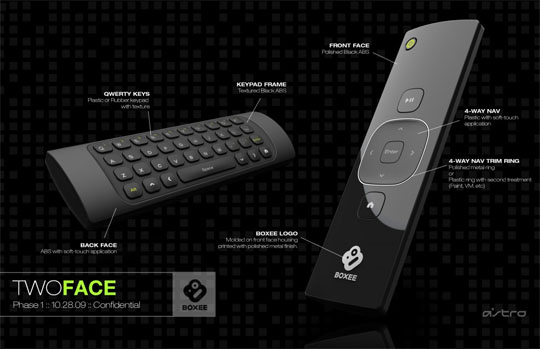 This was Wednesday night.  Yesterday, they released a software update that introduced a new interface that's much more streamlined.  It still has the same design cues from the beta, but just more polished and less cluttered looking.  To see if I would face the same fate with The Comedy Network, I selected an episode of the Daily Show, only to be treated with the web page, and a player in the window.  Not exactly the most elegant solution, but the Boxee software was smart enough to automatically position the mouse cursor on the player's full screen button.  This time the video did play back, and I went ahead and put it in full screen mode.  The Comedy Network doesn't offer HD streaming from its site, but unlike the horrible resolution I faced with Global, this was decent upscaling.
It's clear that the software is going be tweaked going forward, and we can expect other internet video services such as  Netflix to roll out by the end of the year.  Although this isn't a full review, my initial take on the Boxee Box by D-Link is that the hardware design is great, especially the remote. The software is another matter.  Although it's not as slick as a full blown HTPC setup, which I'm using in the living room, it's about half the price with spectacular codec support.  For those looking at this compared to other low cost media streamers such as the Asus O!Play Air or the WD TV Live HD, I'd say this is a worthwhile investment, because it gives you everything those do, and a whole lot more.