Bell Samsung Galaxy Tab: Hands On Video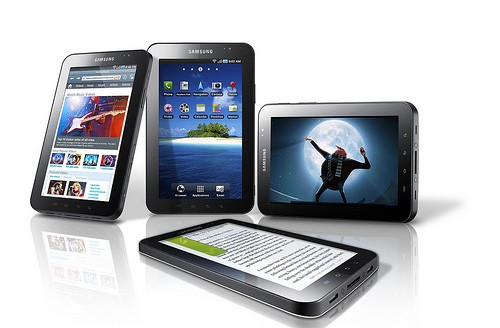 Although no official launch dates are announced, the Samsung Galaxy Tab is set to appear on both Rogers and Bell here in Canada, probably by the end of November.  We had a chance to get our hands on one, and came away suitably impressed.
The Android based tablet, seen as the second mainstream device in the tablet behind the iPad, sports a 7 inch 1024×600 display using Samsung's Super LCD screen technology, making it about half the size of the iPad.  Unlike the silver back of the European version, Samsung has opted for a crisp, more appealing carbon fibre black back for the North American version.  What's notable is that although the iPad has a 9.7 inch screen, the Galaxy Tab uses up more of it's display to show 16:9 video content, making up for the size difference between the two.  The Galaxy Tab also has a 3 megapixel rear camera, and a VGA front camera for video calling, and supports the Android Marketplace.
Though there were no specifics, there was a mention off camera regarding sharing plans to accompany a smartphone data plan, but we're not sure if you'll be able to take your phone's SIM card out and insert it to the Galaxy Tab.
Samsung has included a dedicated reading application for newspapers, books (powered by Kobo) and magazines, though no media was present on the device when we tried it out.  We did get a chance to try out a few 3rd party apps on the device, confirming that as long as developers stick to Google's programming guidelines, the application will properly scale to the higher resolution, as we saw with Angry Birds for Android.
Tags: Android, Android 2.2, Apple, Bell, Canadian, ebooks, eReader, Froyo, Galaxy Tab, google, Google Android, hands-on, iPad, Kobo, North American, Rogers, Samsung, tablet