Toronto, Then and Now: An exercise in photographic reverse-engineering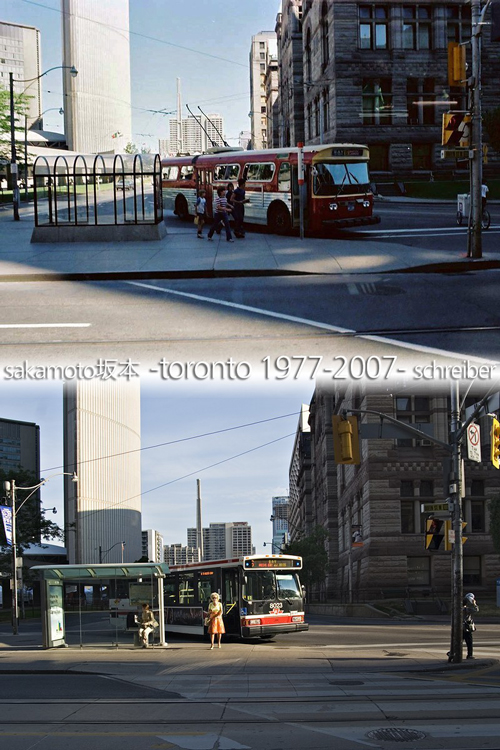 Came across this interesting experiment today by Damon Schreiber on the Electroblog.
Spawned from a random Google search, Schreiber was inspired to take shots of Toronto from 1977 and recreate the same shots in 2007, being as painstakingly meticulous as one can to make sure the content, staging, positioning, depth-of-field, aperture, lighting, and even time of day are accurately reproduced. The origins of the idea, and indeed the source of the original shots of Toronto from 30 years ago, are all explained in great detail on the photoblogger's site, and the story of how a simple image sourcing project became an exercise in urban exploration and photographic reverse-engineering is straight-up fascinating:
I set out to take a few shots but came back rather disappointed with the results (this was to become a pattern as trial and error evolved into something like a method). It turns out that reverse-engineering someone else's photos is trickier than it looks.
Schreiber's quest to recreate a 3-decade-old photographic essay borders on obsession, and the results are amazing, as he takes a city that I've lived in and watched grow over 17 years and gives us a new perspective that, on one hand, depicts a city that has grown into a thriving  and bustling metropolis, and on the other, barely appears to have changed at all.
Check out the whole set from the beginning right here.
(Thanks to Nicole R for the heads up)
[tumbled in via Rye]