Palm Pre will have its own online catalogue of Apps, cleverly named the "App Catalogue".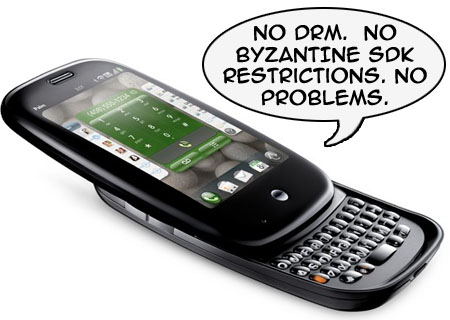 Is the Pre the Smartphone for the Rest Of Us?…wait…that's not right…
As if there was ever any doubt, Palm has announced that they will in fact be providing an online application retail outlet for the new WebOS-powered Palm Pre, which they have dubbed the "App Catalogue." The fact that this was coming was essentially a no-brainer, but the big question is, does Palm intend the Catalogue to be a walled-garden-type store from which all Pre owners must purchase software, or will it be simply an available option, leaving users free to install-at-their-own-risk an application they find from a source outside the store?
My money's on the former, but I'm hoping for the latter. I'm not saying this based on any preconception offered by Palm's practices in the past; simply that Ed Colligan seems like the type of CEO who would look at the moneymaking bonanza that is *ahem* the competition's walled garden app store and say "Oh HELL yes." After all, he's the guy who said this:
When asked if the Palm Pre's price would be less than the iPhone's $199, Palm CEO Ed Colligan replied, "Why would we do that when we have a significantly better product?" (Gizmodo)
Now that's an open-palm bitchslap if ever there was one.
The Pre will be released later this year in the US on the Sprint Network. We here at rgbFilter are all pretty stoked about the Pre and what it means for the wireless landscape in general (I gotz to get me some of that Synergy), and look forward to bringing you a hands-on as soon as possible.
UPDATE via drsquid:
According to a CBC Technology story posted today, Palm's App Catalogue will indeed be open to all.
Chief among Palm's innovations is the decision to throw the doors wide open on its application store — a depot of downloadable software that allows users to customize their phones. While the company will offer free and certified applications, anyone who wants to design software for the Pre will be free to do so and won't be required to seek Palm's approval, as seen with others such as Apple.

The openness will spur innovation, Crowley said, but users will also have to be wary because there will certainly be some malicious applications distributed.

"We're going to be a lot more open," he said. "That's good and bad."
This isn't a surprising move for anybody familiar with Palm's history of letting developers create and distribute applications however they want. That combined with using Amazon's DRM free MP3 store (at least in the US) suggests that the philosophy of simple and openness that Palm has held since day one is still holding true.