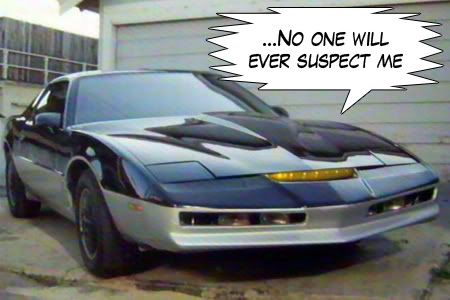 From the "No FREAKIN' way" files:
The modified Mustang used in NBC's new show Knight Rider has apparently been stolen, right out from under the noses of the people protecting it.
The event was caught on video. You can see it here, and also from across the street here. There's also a video of the aftermath here.
In case you're curious, yes, I AM laughing as I type this.
The car was making a stop in Toronto for a publicity stunt in front of Union Station on Front Street.
The car was being unloaded from its transport trailer for a crowd of onlookers. When its handler turned her back for a moment, a man darts from the median, jumps into the still-running ride, and peels off heading East on Front Street.
It's unclear whether this was an orchestrated stunt…a quick google search shows a lot of related headlines with question marks…but the woman's reaction in the video sure sells it, as does this video taken of the aftermath.
Or maybe, having watched the pilot movie and taken a look at the official site, which is loaded with slogans like "KITT HAPPENS" and pix of the souped-up Mustang in what appears to be a somewhat modernized Super Pursuit Mode, I'm just HOPING this is the real deal.
Local news site Blog TO has been tracking this event with some scrutiny, and points out that the likelihood of this being a real theft is "near none", citing the following:
• An employee at media relations at Global Toronto (who wishes to remain anonymous) has told me that she has received a number of calls from the media, and that Canwest currently "doesn't know where the car is," and is "trying to figure out what has happened."

• Repeated phone calls to the director of publicity for Global Networks and E! have gone unanswered. She's either loving this (if it was a planned stunt) or hating this (if the car was actually stolen).

• I just chatted with a news tip screener at 680news, and they aren't running the story because they too haven't been able to confirm it.
Posters on the fansite knightrideronline.com are less dubious.
ChesterD. said:
I doubt it was fake. I was going for lunch break and saw the E! tent, thought I'd hit it up for any free merchandise (haha, front street is great for promo-freebies)

Anyways, one of the officers assisting with traffic is a former college mate. I was asking him why they're closing both sides of the street, since Front is always so damn busy anyways. Apprently KITT was going to do a burn-out and do a loop around the median, ending at BAY, then come back around, in the westbound lane, and end up in front of the E! tent again.
My friend thought it was part of the gig, except the car didn't turn back at BAY around the median.. but just kept going. So the cops weren't in on it. ha ha Global must be just embarrased that they lost the car, and aren't saying much.

probably just some opportunistic kid taking it for a hot joyride. Hope they don't find it in the lake or on the Bluffs
Whether it's real or not, it's got people talking. I for one am leaning towards real, but I'm just barely left-of-centre on that opinion. Like I said, it's mostly because I just want it to be true…it's just too awesome. Whether all this chatter will turn into ratings for the show is another matter, but I'm reminded of some sage words of wisdom posted on blogTO's page:
•My 7-year old nephew says "if that really happened, or even if they're pretending, the TV show is terrible and not worth watching."
Amen, brotha.
____________________
UPDATE SEPT. 19/08 – Dammit. Apparently, it was a stunt after all.
TORONTO, Sept. 16 /CNW/ – E!, Canada's destination for Everything
Entertainment, launches its fall marketing campaign this week and focuses on
the highly anticipated premiere of 80's icon Knight Rider (Wednesday,
September 24 at 8pm ET/PT). The campaign also highlights the launch of two new
comedy series Worst Week (Monday, September 22) and Kath & Kim (Thursday,
October 9) as well as returning fan favourites: Extreme Makeover Home Edition
(Sunday, September 28), The Biggest Loser – Families (Tuesday, September 16),
How I Met Your Mother (Monday, September 22) and My Name is Earl (Thursday,
September 25).
To accelerate the steadily building buzz around the premiere of the
Knight Rider series, last week E! Everything Entertainment brought the star of
the show, the new and improved KITT, to a number of high profile events and
heavy traffic locations in Toronto including the Virgin Music Festival, where
fans were able to have their picture taken with the legendary car. Last
Friday, the final day of KITT's celebrity tour, crowds of Knight Rider
enthusiasts were left stunned when a man ran out of the crowd, dove into KITT
and screeched off. Intense speculation spread across news outlets and viral
communities promoted by links to YouTube with audience cell phone footage of
the "KITTnapping" action. And now E! is looking for help to find KITT.
Toronto's "KITTnapping" officially launched a unique viewer engagement
promotion whereby fans have a chance to win a brand new Mustang GT Coupe or a
number of limited edition Mio Knight Rider GPS units simply by identifying
where KITT's been spotted.
E! is also looking to the public to post their sightings of KITT at
eonline.com and watch E! for updated dialy KITT sightings. Viewers will be
encouraged to enter their sightings once daily at eonline.com and during the
Wednesday, September 24th premiere episode of Knight Rider, when one lucky fan
will walk away with a brand new car!
Canwest via Nasioc.com
Notably, the promo is called KITTnapped…I think I'm owed some money, CanWest 🙂 (no, really.)
.