Samsung Galaxy S II photo preview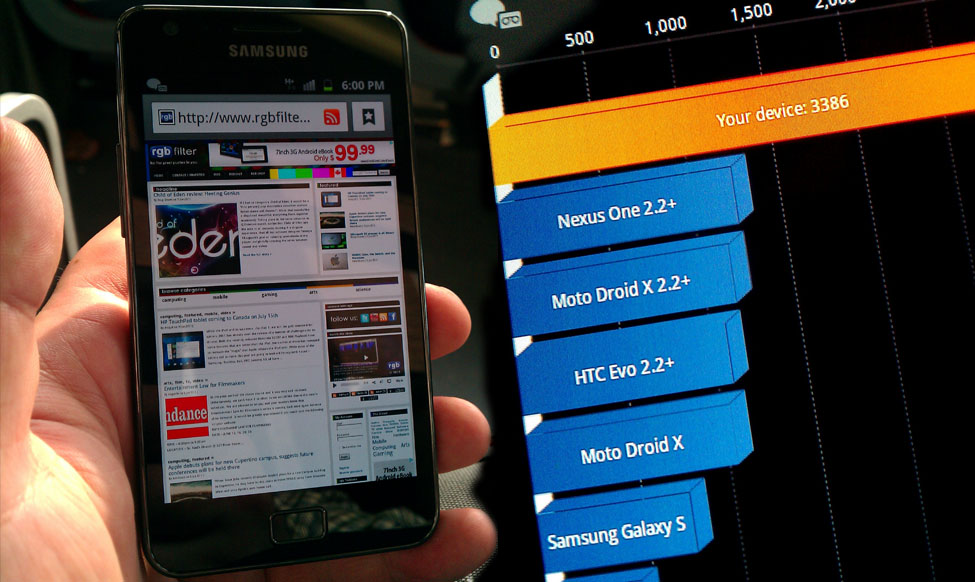 Over the past few days, Alex has had his hands on the latest and greatest Android phone from Samsung, the Galaxy S II.  There's some things we can't say about it at the moment, but by all metrics, it certainly appears to be ushering in the next generation of powerhouse smartphones.  At a 3rd of an inch thick, the SGS II is both thin and light, while sporting a 4.3″ Super AMOLED+ screen and a lot of power under the hood, driven by a 1.2Ghz dual core processor that runs Gingerbread (Android 2.3.3).
Quadrant scores have the phone hitting around 3300, which manages to best even the Motorola Atrix by a good 50%.  Similarly, Smartbench 2011 sees the Galaxy S II clock in at around 4000, making it a force to contend with.  The latest iteration of Samsung's TouchWiz interface is on here as well, as well as some value added apps, including a Video Maker app, as well as a photo editing app, to get the most out of the 8 megapixel, 1080p video camera built into the phone. There is also a 2MP front facing camera for video chat.
Samsung has added a number of 'Hubs'  (I guess Hubs aren't just for Windows Phone 7 anymore), including Games, Music and Reader.  The Games Hub which includes Gameloft titles that aren't available in the regular Android Market, while the Reader Hub includes PressDisplay.  You can see how it presents a 'newspapery' feel to the Toronto Star in the gallery below.
While we can't say which major Canadian carrier will be getting the Galaxy S II, or when, regional carrier SaskTel says they'll be unleashing the phone on the wilds of the prairies next month, at least according to their twitter.
You can read more about the Galaxy S II on the global Samsung site here, however not all the features shown are guaranteed to be on the Canadian model.
Check-out the gallery below for pictures of the Galaxy S II , and some comparison shots between it the Motorola ATRIX, HTC Desire HD, and the Samsung Infuse 4G (the AT&T model, but also coming soon to Rogers)
Additional text and photos by Alex Davies.