Acer launches new line of Aspire notebooks in Canada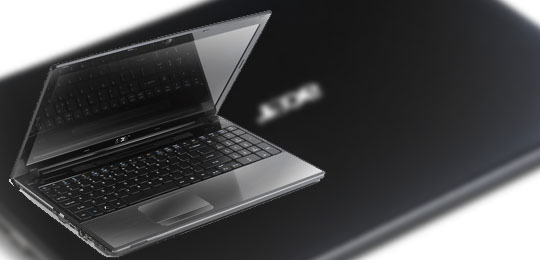 If you were in the market for a new notebook, but the thin and light category just doesn't have the oomph you need, don't worry.  Along with the new TimelineX notebooks announced yesterday, Acer's also announced the AS5745 and AS 7745, of those who want some additional horsepower.  The AS5745 Series sports a 15.6″ 1366 x 768 display, while the AS7745 has a larger 17.3″ 1600×900 screen.
Some systems will be available with Blu-ray and ATI Mobility Radeon GPUs (5650 or 5850).  For those who need to make sure ALL their data is available locally, some machines will have dual hard drive options.
Gallery and press release after the break
Press release
New Acer Aspire AS5745 and AS7745 Notebooks Offer True HD Playback of Movies and Videos for Cinematic Entertainment on the Go
Select systems boast Blu-ray, discrete graphics and dual hard drives

MISSISSAUGA, ONTARIO, Aug. 4, 2010 – Acer Canada, part of the world's second largest vendor of notebook PCs,(1) today announced its new line of Aspire notebooks geared toward consumers looking for more than just essentials. These notebooks are a cut above entry-level notebooks offering a range of features including second hard disk drive (HDD) support, branded discrete graphics, LED-backlit displays and/or Dolby® Home Theater® v3. The new Acer Aspire AS5745 and AS7745 notebooks are available for customers in Canada at major retailers with prices beginning at just CAD $659.99.
Both lines of notebooks come in a handsome, thin-and-light industrial design with a glossy black cover. With display options to suit entertainment needs, the AS5745 Series sports a 15.6-inch high-definition (HD) widescreen display (1366 x 768 resolution), while the AS7745 Series touts a 17.3-inch HD+ widescreen display (1600 x 900 resolution).
"Acer continues to deliver on its promise to bring to market leading technology with a superb blend of quality, performance and portability," said Chris Chiang, retail product marketing manager for Acer Canada. "The AS5745 and AS7745 Series pack plenty of power and convenient features to suit the gamut of consumers wanting to enjoy cinematic entertainment, including HD movies and casual games."
Acer Aspire AS5745 and AS7745 Benefits
Both the AS5745 and AS7745 Series tout HD widescreen LED-backlit displays (true 16:9), designed to provide an extraordinary visual experience. The 15.6- and 17.3-inch LED-backlit displays are super slim and use less energy than traditional cold cathode fluorescent lamp (CCFL) displays.
In addition, Dolby® Home Theater® v3 combined with S/PDIF support for digital speakers delivers extraordinarily clear audio. Every notebook is outfitted with Microsoft Windows® 7 Home Premium, Acer Nplify™ 802.11 b/g/n wireless and a digital media reader.
The Aspire AS5745 Series offers up to a 500GB(2) HDD for storing a vast library of music, video, images, movies and games. These notebooks are also powered by the latest Intel® Core™ i3 processors, which enable demanding users to multitask quickly and easily. The systems in this series weigh about 5.72 lbs. with a 6-cell battery and offer up to 3.5 hours of battery life.(3)
Select models within the Aspire AS7745 Series tout discrete ATI Mobility Radeon™ HD 5850 or ATI Mobility Radeon™ HD 5650 graphics, which infuse videos, movies and games with dramatic detail, vivid color and realism. Providing top performance, they are powered by Intel® Core™ i7, Core™ i5 or Core™ i3 processors. Notebooks featuring Core i5 or i7 processors boast Intel® Turbo Boost Technology, which automatically speeds up the processor when the PC requires extra performance. These multimedia monsters provide maximum storage with up to 1TB (2) of storage capacity with a second HDD. The systems come with a 6-cell battery providing up to 2.5 hours of battery life(3) and weigh about 7.1 lbs.
Featured Models
Acer® Aspire AS5745-5947: Outstanding Performance and Value at CAD $699.99
Fueled by a powerful Intel® Core™ i3 350M processor, 6GB of high-speed DDR3 memory and a large 500GB hard drive, the Aspire AS5745-5947 provides plenty of performance and storage for demanding applications and digital entertainment. Users will be riveted by the superb image quality and clarity of movies and other visuals showcased in up to 1080p when connected to a 1080p display via HDMI®. The optical drive lets users burn CDs and DVDs of their favorite music, photos and files, while two SODIMM slots enable them to upgrade to 8GB memory economically.
The system comes with a built-in 1.3 MP HD webcam that presents vivid images even in low light situations, so users can go face-to-face in online chats and capture still pictures and videos for sharing with family and friends. The keyboard touts practical features, including a dedicated numeric keypad.
Acer Aspire AS7745G-3053: Second HDD Support, Discrete ATI and Blu-ray at CAD $1,199.99
A digital dream, the Aspire AS7745G-3053 offers Intel® Core™ i5 430M processing power with Intel® Turbo Boost Technology and 8GB memory for incredibly fast and efficient multitasking. Discrete ATI Mobility Radeon™ HD 5650 graphics and a Blu-ray drive showcases the latest Blu-ray movies and games in brilliant color and realistic detail. Outfitted with 5.1 channel output, users can enjoy intuitive surround sound through speakers or headphones.
This mobile powerhouse offers two 500GB hard drives, which brings the storage capacity to 1TB(2) for archiving a giant library of applications and data. The 17.3-inch HD+ display with a high 1600 x 900 resolution increases the enjoyment of movies, casual games and videos with a large viewing area and fantastic picture quality. In addition, the system features HDMI®, a 1.3 MP HD webcam and Bluetooth® technology, enabling users to wirelessly connect to other Bluetooth-enabled devices, including phones and printers.

Useful Software Suite
The systems come loaded with Acer Arcade™ Deluxe 2010, an all-in-one media portal for managing today's digital media. Acer Arcade archives songs, photos, movies and videos; Arcade Photo optimizes graphics acceleration for fast photo sorting and creation of memorable slide shows; Arcade Video converts videos quickly for playback on a favorite media player and uploads videos to YouTube and Facebook; and Arcade Music browses and organizes music collections.
Acer is Canada's No. 2 overall PC provider.(1) More information about Acer and its products in Canada can be found at www.acer.ca
About Acer
Since its founding in 1976, Acer has achieved the goal of breaking the barriers between people and technology. Globally, Acer ranks No. 2 for total PCs and notebooks.(1) A profitable and sustainable Channel Business Model is instrumental to the company's continuing growth, while its multi-brand approach effectively integrates Acer, Gateway, Packard Bell, and eMachines brands in worldwide markets. Acer strives to design environmentally friendly products and establish a green supply chain through collaboration with suppliers. Acer is proud to be a Worldwide Partner of the Olympic Movement, including the Vancouver 2010 Olympic Winter and London 2012 Olympic Games. The Acer Group employs 7,000 people worldwide. 2009 revenues reached US$17.9 billion. See www.acer-group.com for more information.
© 2009 Acer Inc. All rights reserved. Acer and the Acer logo are registered trademarks of Acer Inc. Other trademarks, registered trademarks, and/or service marks, indicated or otherwise, are the property of their respective owners. All offers subject to change without notice or obligation and may not be available through all sales channels. Prices listed are manufacturer suggested retail prices and may vary by retail location. Applicable taxes extra.
###
Source: Gartner data, FY 2009
Accessible capacity varies; MB = 1 million bytes; GB = 1 billion bytes
Battery life varies depending on product specifications, computer settings and applications or features launched. All batteries' maximum capacity diminishes with time and use.