Emailing AT&T CEO could result in a cease and desist notice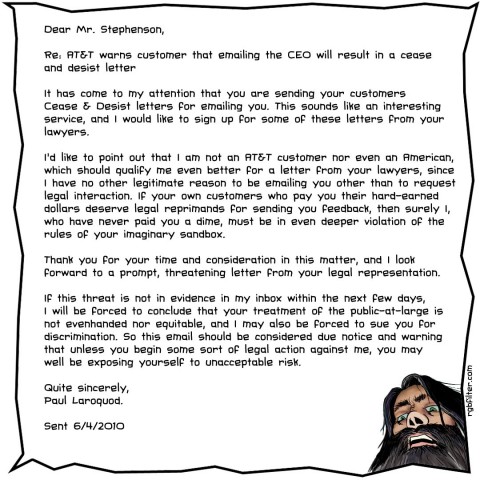 Over the course of two weeks, iPhone and iPad user Giorgio Galante sent out two emails to AT&T CEO Randall Stephenson, requesting that he get the tethering that the US carrier has promised for a year, as well as having his eligibility to upgrade date bumped up. In response, Galante was told by AT&T's Executive Response Team that if he continued to email Stephenson, AT&T lawyers would send a cease and desist letter.
The whole fiasco certainly got a lot of responses, and one of my favourite has to be the letter Paul sent (pictured above) to Mr. Stephenson.
To be fair, AT&T did send out a formal apology…
We are apologizing to our customer. We're working with him today to address his questions and concerns. This is not the way we want to treat customers. From Facebook to significant customer service channels, AT&T strives to provide our customers with easy ways to have their questions addressed. Because of this incident, we are reviewing our entire process to ensure a situation like this does not happen again.
Though you have to love the wording… "this is not the way we want to treat our customers…".  If this isn't the way they want to treat their customers why did they, in fact, do so?  Maybe someone was having a bad day.
As for Giorgio, he's still making the switch to Sprint and the HTC EVO 4G.