Replacing a rusty Nautilus Mini pin
I was originally going to write about this later, but after seeing a thread about rusted Aspire Nautilus Mini springs on Reddit, I thought I'd take a few minutes and finish the photos now.
If you've washed your Nautilus Mini, you may have come across the problem of a rusted pin, which isn't a good thing. While the Nautilus Mini is an amazing tank for vaping, the spring itself has a couple of problems that can become an issue for just about any user, if they're not aware of it.
The pin that contacts the battery is fine in its own right. The spring that provides the 'spring loaded' connection is both fairly weak, in that with a lot of changes, it can lose its spring, and not provide a reliable contact. This spring is also exposed directly to the replaceable atomizer. It's very likely that over time, some of your juice is going to get past the threads, and into the area where the spring is located.
When you go to clean the bottom hardware of the Nautilus Mini, you could run into rusting problems, which is going to eventually make your Mini useless.
There is a fix though.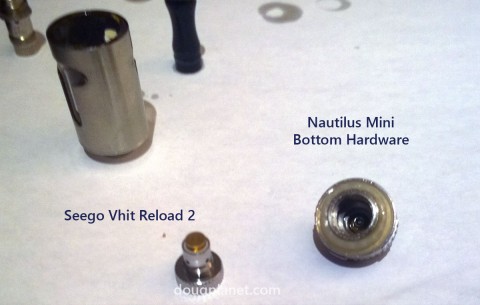 First, you want to get yourself a replacement Seego Vhit Reload 2, as seen above. The Seego isn't used for e-cigarettes, but for vaping herbal materials, so if you shop at a brick and mortar shop, if they don't carry herbal gear, they may not have these in stock. There's plenty of sources for them though. I'll mention right now that Albert at e-cigarettes.ca showed me this tip, and has been by far the most knowledgeable of all the vape shop vendors I've dealt with in Toronto, so consider this a big shout out.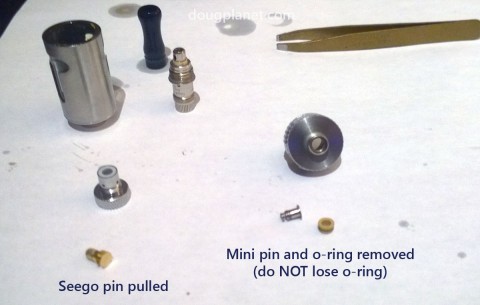 You then want to remove the centre pin from both the Seego, and from the Nautilus Mini. The Seego pin comes out fairly easily, but the Nautilus pin can be pretty tight, and require some working. Take care that when you pull the Mini pin, you do NOT lose the 0-ring. When I tried it, I almost lost the o-ring down my kitchen drain.
Once separated, wipe down the threads on the Mini, or clean the area with some isopropyl alcohol, as needed, and let it dry. This depends on if the area is currently gunked up or not.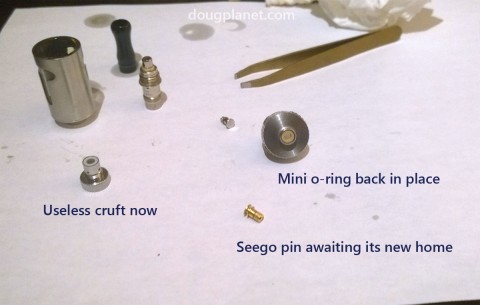 Then place the o-ring back into the pinhole, as seen above. Do this from the 'outside'. Once you've done that, simply slide the Seego pin in.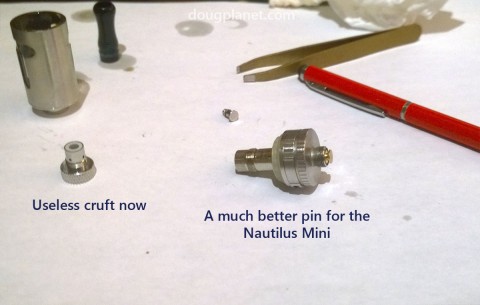 As you do, you'll feel a slight 'click', and you'll know when it looks right, as seen above.
That's it. It should be a perfect fit. The Seego pin completely encases its spring, which has the benefit of not exposing it directly to any juice. It also seems to be much stiffer, and a sturdier build all around.
Another trick that I haven't tried is to simply remove the spring from the Nautilus Mini altogether. This should give you a flush connection that will work with some setups, like the eLeaf iStick, but I haven't tried this myself. For the few dollars the Seego pin provides a great, flexible replacement.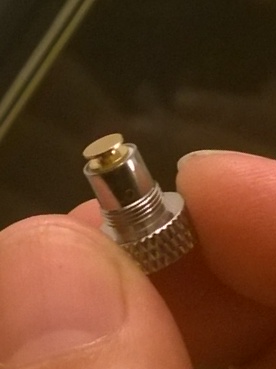 Oh, here's a bonus closeup of the Seego base that I dismantled.