HTC Meetup in Toronto tonight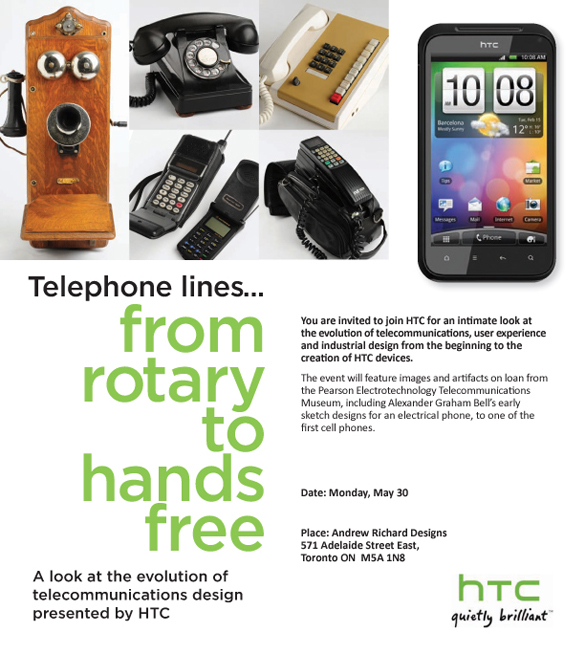 For the first time HTC is having a meet-up in Canada. If you have time to drop by tonight you'll be able to check out "The Evolution Of Telecommunications Design", the latest HTC handsets, and possibly some new unreleased devices!
HTC presents "Telephones Lines…From Rotary To Hands Free – The Evolution Of Telecommunications Design"

HTC would like to invite you to experience the evolution of telecommunications from a design perspective with the exhibit, "Telephone Lines… from rotary to hands free."

In the exhibit, we will showcase artifacts and photos from the Pearson Electrotechnology Telecommunications Museum; plus, a variety of great materials like one of Alexander Graham Bell's early sketch designs for an electrical phone and one of the first cell phones.

Attendees will be able to walk around the exhibit before a casual presentation by One and Co. and an HTC representative, where they will discuss the artifacts innovative design and how HTC is leading the industry in design. HTC team members will also be on hand to conduct demos of the latest and greatest HTC devices.

We hope this will be a fun, laidback evening giving you a chance to understand the design evolution that's shaping HTC phones today. Come say "hi." We're excited to meet you!"

Open to the public, all ages.

Monday, May 30 · 6:00pm – 9:00pm

Andrew Richard Designs Events
571-A Adelaide Street East
Toronto, ON M5A 1N8, Canada
For more details, and to register, go to the HTC Facebook page here.