Adobe Demos It's Plenoptic Lens and Software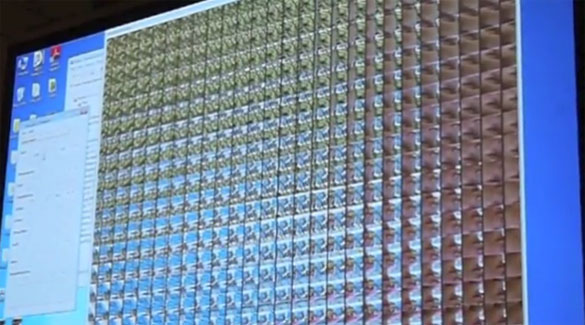 From the realm of cool news,  Adobe recently demoed a radical technology involving a Plenoptic Lens and a new software that will find it's way into Photoshop eventually.  Basically, this new lens (with software help) allows still pictures to be focused and re-focussed AFTER the picture is taken.  That's right!  AFTER the picture is taken, you can manipulate the depth of field to pretty much anywhere within the picture.  How does it do this?  The Plenoptic Lens is basically made up of a whole bunch of tiny little lenses.  The Plenoptic Lens is placed between the camera lens and the image sensor.  The tiny lenses allow the camera to record the picture in tiny segments where each segment contains more information about the light rays coming into the camera, including a specific perspective.  Thus a whole bunch of those tiny lenses will capture the picture from groups of varying perspectives.  This results in having practically all of the depth of field information (among other types of info.) being captured and recorded.  Then with special software to interpret this complex picture data, the computer can calculate any depth of field that you can focus onto because all of the available data about the image is right there.
Taking a look at this, I already can spot another cool possible feature.  Since all those tiny lenses capture light rays from different perspectives all at the same time, they must also –in theory– record more light coming from slightly different angles, even from slightly obscure angles like a little around an object, something that cannot be captured with a regular camera lens.  This means it just might be possible to also look slightly around objects in the still picture like, let's say, slightly around a corner into a mirror hidden in another room.  That would be really awesome!  A Bladerunner's dream come true.
Here's the link to the video demo:

For more information on the Plenoptic Lens, check out Laptop Magazine's blog article.
Todor Georgiev is the Senior Research Scientist at Adobe working on the Plenoptic Lens and has more detailed information on his blog.  Click on his name to check out his site and geek out like you've never geeked out before.
Cheers.
Tags: Adobe, Bladerunner, demo, Plenoptic Lens, video