Acer's new computer line up – all things great and small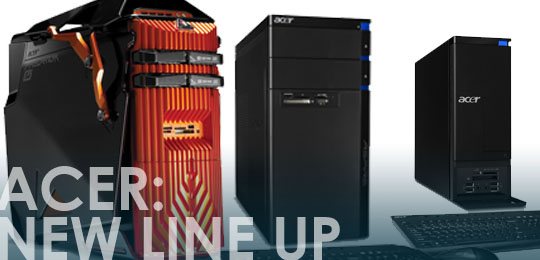 Acer, a company that's grown from relative obscurity outside the DIY computer building community to the world's number 2 computer maker in just a few short years, has announced three new desktop line ups for Canada, covering the spectrum from the small form factor X3 series to the monstrous Predator gaming rig.  Playing the mama bear role, is the more traditional M3.
The Acer Aspire M3 series is a standard desktop tower, and will come with AMD Athlon II or Intel Core i3 / Core i5 processors and ATI Radeon 5570 graphics.  Pricing on the M3 series will start at $569.99 CAD.  The M3 series sounds like a solid option for those looking to upgrade their old desktop, but it's the other two in the line up that I find more interesting.
The Aspire X3 is Acer's new small form factor PC, with AMD Athlon II or Intel E5500 CPU options, which is more than enough to handle most computing tasks and geared towards those concerned with space than graphics horsepower.  The NVidia GeForece 9200, though capable of HD media playback isn't going to win you any games in Left 4 Dead (clocking at a steady 20 FPS it's bearable).  What makes the X3 line interesting is it's small enough to live in most entertainment cabinets, and has two available half-height PCI slots  (1 each PCI E x1 and PCI E x16), and a number of opportunities arise for customization.  I've already had a chance to put the X3400 through it's paces and have been impressed with the results. Prices for the Aspire X3 Series start at $449.99 CAD
Acer's also introduced the new Aspire Predator AG7750 rig, taking aim at the hardcore gamer.  With a Core i7 CPU and 3 way Nvidia SLI capability, the Predator is meant for those who want to eek out every last frame from the newest games.  The case isn't shy about advertising it's gamer orientation either.  With it's angular cuts, black and orange grill and hinge work and massive size, it's main goal is to spit out frames faster than you can see them.  Pricing starts at $1799 CAD.
You can catch the full press releases and a gallery after the break.