Microsoft Security Essentials 2 released – Your PC will thank you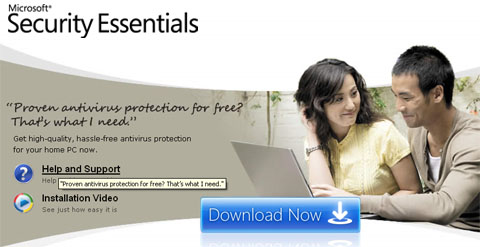 If you haven't yet installed Microsoft Security Essentials on your PC yet, now is the time.  Microsoft has released version 2 of their antivirus and malware protection software, and it's probably the best solution out there for most people.  Even better is that it's free.
I've always hated antivirus software, because of the bloat it adds to the system.  Most commercial antivirus does a great job of delivering pop-ups for innocuous events, just to remind you that they're still running, and to say "Hey, don't you feel glad you bought me?".  Even more annoying is that they often interfered with some of the graphics programs I run on a regular basis, so I usually ran my PC pretty much naked.  I always considered myself cautious enough that I didn't really need them.  Knock on wood, that's historically been true.
When Microsoft launched the free Microsoft Security Essentials, I was curious to see how it would perform, having run it since the beta launched.  It's the first antivirus software I wasn't annoyed with, and has become the antivirus of choice when friends ask for a recommendation.  Just last week, a friend of a friend got a virus on their machine, while running a 3rd party AV program which was giving him a lot of trouble.  After installing Security Essentials was able to take care of it.
The new version adds a heuristics engine that should improve detection capabilities even without downloaded definition profiles, as well as more robust Windows Firewall settings, including the ability to tweak Firewall settings from within Security Essentials.  The only real drawback of the software has nothing to do with performance, but that it's a standalone program.  It's understandable that Microsoft is hesitant in rolling the antivirus software into the OS, mainly because of antitrust concerns, but integrated malware protection really should be a part of the operating system.